Heidi Montag Plastic Surgery Pictures
Heidi Montag is "Absolutely Beyond Obsessed" With Surgery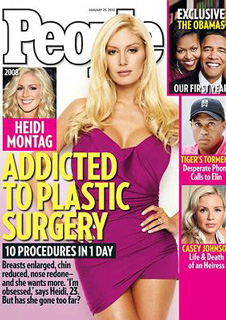 OK even if you're totally over Speidi, you've got to feel concerned for Heidi Montag right now. The shameless spotlight seeker just had another 10 (yes, 10) plastic surgeries (including a mini brow lift, boob job and lipo) that have rendered her nearly unrecognisable.
I say "another 10," as the 23-year-old already had a boob job and nose job back in 2007; and while I'm all for people deciding what's right for them, I can't help but cringe at the nonchalant way she regards the surgery. She tells People that she underwent the procedures to "feel perfect," and had them all done at once because she has a "tight schedule." She's even already planning her next surgery (another boob job), claiming to be "just starting" out on her journey to plastic heaven.
She claims that she just wants to be honest, but what do you think, is it good that she's opened up or is it actually a pretty sad commentary on fame and body image?