History of Estée Lauder Advanced Night Repair
Charting Estée Lauder's Groundbreaking History of Innovation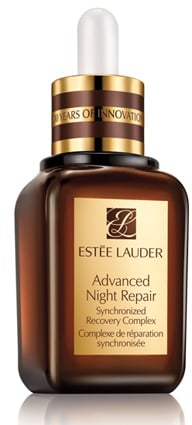 A product's journey to cult-like status isn't always easy. In fact it often takes years of research. Here we chart the 30-year story behind an industry icon, a groundbreaking serum that revolutionised the market and still manages to impress today: Estée Lauder Advanced Night Repair.
1982: Estée Lauder revolutionises the beauty arena with Night Repair. One of the first beauty companies to make the link between DNA damage and skin ageing, Night Repair was the first ever serum to launch, the first ever repair product and the first skincare product to use hyaluronic acid.
2000: Estée Lauder started working with independent scientists after it was discovered that every single cell of the human body has clock genes which affect ageing. The research showed that those clock genes help to regulate precisely-timed repair responses which boost DNA repair. The research would prove key to not only Estée Lauder, but the industry as a whole.
2008: The brand conducts a year-long clinical trial which showed amazing results: women using the soon-to-be-released Advanced Night Repair Synchronized Recovery Complex (ANR) had a 76 percent increase in skin tone, 76 percent increase in skin clarity and a 67 percent improvement in lines and wrinkles.
2009: Launch of ANR. Inspired by the discoveries surrounding clock genes, the reformulated Advanced Night Repair features Chronolux™ Technology which supports the skin's natural repair processes at exactly the right time. The result? A visible reduction in all signs of ageing.
2010: Wins a coveted Marie Claire Prix d'Excellence and InStyle Best Beauty Buys award — just some of the 70-plus global awards that it has won to date.
2012: A limited edition bottle of ANR launches to celebrate 30 years of innovation from Estée Lauder.
2021: ANR is so groundbreaking that its patents are valid for another nine years.