How to Apply Fake Eyelashes for Party Season Makeup
Get Luxe Lashes Just in Time For the Christmas Break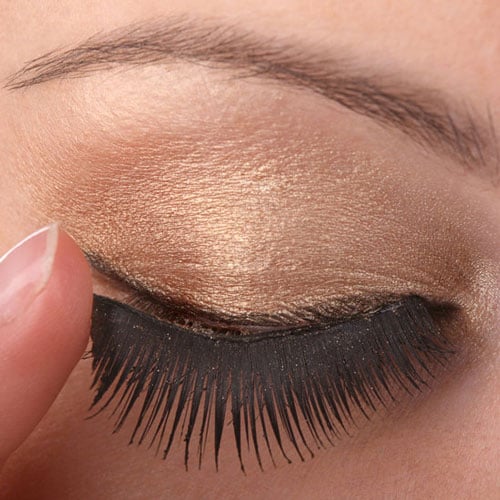 If you've been wanting to experiment with luxe lashes, let the party season be your time to take the leap. But if you haven't dabbled with out-there lashes, the thought of wearing them, not to mention applying them, can be daunting. See what you can do to get your eyes perfectly framed, whatever your skill level, when you keep reading.
Beginner:
Not a fan of false eyelashes, or failed miserably that one time you tried them? Reach for an eyelash curler instead. First, warm it for about three-to-five seconds with your blow dryer, then position it at the base of your lashes. Press and hold for five seconds, shimmy it up to the middle of your lashes, and hold again for another five seconds. Finish with two-to-three coats of Maybelline Volum' Express Mascara ($16.72) for some serious boost.
Moderate:
You're not afraid of false lashes, but you're not 100 per cent confident about applying the individual ones just yet. Grab a strip of false eyelashes, then, like Mac Cosmetics 1 Lash ($18). Hold them up to your eye and snip on the sides until they're the size of your lash line. Apply a thin line of glue to the strip and wait 10 seconds for it to get tacky. Look down and pull the lashes onto your lash line, pressing the ends before making sure the centre is secure. Finish by curling, and you're set.
Advanced:
Bring it on, baby. You're ready for the individual lashes, which seem like they should be easy, but are a beast all on their own. Pick up Ardell Dura Lash Individual Flare Lashes Short Black ($9.99) and start applying. Using the same method as above, place the eyelashes onto the outermost corner of your eye, making sure they don't extend past the centre of your pupil. And if you're really feeling ambitious, apply some along the outer corner of your bottom lashes for a mod look.