How To Apply A Set Of False Eyelashes So They Look Natural
5 Steps For Making False Eyelashes Look More Natural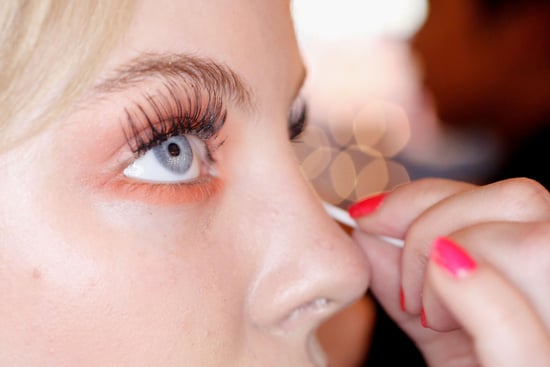 For special evening events or a night on the town, false eyelash strips (in lieu of individual lashes) provide glitz and eye-popping power to make the time and effort worth it. Armed with a few cool tricks up your sleeve, you can easily blend them in with your natural lashes so they don't look overly obvious. Here, celebrity makeup artist and Vanitymark Cosmetics founder, Brett Freedman, offers some tips to make false eyelash strip application a lot easier...
Cut the strip lashes so they are as long as the length between the center of your eye to the outer corner. "Remember it's all about blending your inner lash line lashes with the faux," Freedman explains. Avoid starting too close to your inner eye, because it's "a dead giveaway and difficult to glue down in that naturally sparser area."
Spread a thin line of glue along the thread, and blow on it a little to allow the glue to become a little dry and tacky.
Use your fingers to apply the fake lash to the outer corner of your lash line (and not your lid). Then, use tweezers to press the strip down securely along the lash line. If you are hesitant, Freedman promises it gets better with practice. "It's like riding a bike," he explains, adding, "Once you do it a few times it's way easier."
Hold down both edges of the false lash for a few minutes until the glue dries to lock them in place.
To finish, do a quick pump with an eyelash curler and top off with a few coats of mascara to blend the natural and faux lashes together.