How to Choose the Correct Shade of Red Lipstick
Your Complete Guide to Wearing Bright, Bold Lip Colour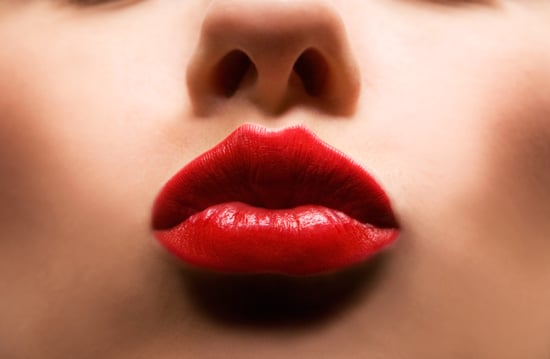 We're thrilled to present the following post from Brett Freedman, BellaSugar guest writer, celebrity makeup artist, and founder of Vanitymark Cosmetics.
The bright lip trend is in full throttle. Are you on board? Still feeling like it's not for you? Here's my insight into dipping your toe in the bold lip pool! The other night I went to a friend's for dinner and a screening of My Week With Marilyn. In honour of the film (and Ms. Monroe), my gal pal, Whitney, showed up with a beautiful cherry lip (Guerlain's #529) and matching nails (Sephora by OPI's And a Cherry on Top). Keep in mind, Whitney is a neutral/pinky gloss girl. Seeing her with scarlet lips was striking and felt totally fresh. She looked so great that I found myself asking why she doesn't do it more often. Whit's reply: "It's not special if you do it all the time." So true, and on closer inspection I noticed both her lip and nail colour had a touch of gold. How very smart of her, as gold softens. A red lipstick may seem very thick and garish, but with a tinge of gold it seems to have more depth and feel very wearable. Every woman has a bright shade that will make her look sensational.
Check out Brett's complete guide to getting bright lip colours right when you read more.
Who shouldn't wear a bright lip? Very thin-lipped people. Sorry, but a bold colour will only accentuate a "kitten" mouth. Think Celine Dion. She's a beautiful woman, but she wisely chooses pale, glossy shades to accentuate her mouth, calling attention away from her weakest feature. If you have a very uneven lip line or crooked smiles you may want to steer clear of a vivid mouth as well. This will only call attention to asymmetry. You can still embrace the look by choosing sheer glosses with a bright tinge, but avoiding full-bodied, opaque lipsticks.
What colour red is best for my skin tone? Here's my easy guide: the paler you are, the bluer the red. The darker you are, the warmer the red. In a nutshell: if you are very pale, like Nicole Kidman, you want a cool-toned red. Mid-toned gals like Jennifer Aniston should use a warmer red. The trick of having a red with a touch of gold is perfect for everyone, but especially mid-toned gals who may have trouble eyeing a warm red. Deeper skin-toned gals, like Rosario Dawson, should err on the warm, orange-y side. A nice brick red would have the most flattering, cohesive effect.
Picking out a red lipstick. How will you know what's cool- and warm-toned? A lot of women tell me all reds look the same to them. My tip is to go to the drugstore or department store and just start picking out shades you like from the different lines you like. Once you have five colours that pique you, line them up next to each other. When shades are lined up you can see, "Oh, this is the more orange one, or this looks a touch cooler, plummier." Understand? I never pick a makeup colour (lip or otherwise) without lining it up against similar shades. Like my mum said, "We may not know what we like, but we definitely know what we don't like." Try it!
Brighter lip colour is a responsibility. I liken going out with a bold lip to wearing a white dress. You have to pay attention. Bold lips aren't casual. If you want the wow factor, you have to pay for it ... with attention. A pop-of-colour lip look means you have to re-apply (with a mirror) a few more times than you would a sheer gloss. The lines need to stay crisp to look the most striking. You can either look at this as a pain in the butt or as delicious, girly moments throughout the night. It's well worth it. A bright lip is confident, sexy, and oh so grown up.
What do I do with the rest of my face? We all have heard this a thousand times: play up the lip, go sparse on the eye. Truth is, the sparse eye is the reason a lot of gals don't try the brighter lip. When I work on actresses, I find there are very few that feel comfortable going sans a shadow and lined eye. My remedy? Try a nude cheek and eye. You can get a lot of pop and definition, but since the tones are fleshy, they won't compete with your mouth. I will say really pumping up your lash line with an intense lip is always a great idea. Be sure to really curl and bring out the lashes. A sculpted lash line never reads as makeup, yet really makes eyes stand out.