How to Do a DIY Feather Manicure
New Season Nail Art That Really Takes Flight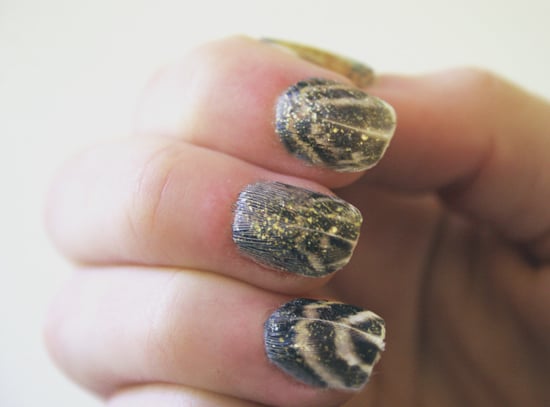 This past year, unusual nail polish textures (crackle, magnetic, etc.) and feather hair extensions were both huge. So it's no surprise that now there's a new look that cleverly remixes both trends. Manicures that use real feathers are popping up at high-end nail salons in the States, replacing the popular snakeskin look, so it's only a matter of time before the trend storms here. But you can create the look at home now. Find out how to do the DIY version (pictured above) below.
The trick to getting feather nails right is preparation. For the manicure above, we researched different feathers and decided on cruelty-free ringneck pheasant because the small, tufted feathers are easy to use and pretty, too.
The feathers (above) aren't quite ready to use when they arrive and you'll have to cut off the downy grey parts. Once you've done that, you'll want to start on your nails themselves. For your base, use a clear or shimmer polish (we used Essie Luxeffects As Gold As It Gets because we like sparkle). Before your basecoat dries, gently press a feather into the polish. Put the feather on going with the "grain" of the plume for smoothest results, and don't worry if the feather hangs off the edge; you can clean it up later.
Then, paint a coat of polish over your feathers and let your nails dry. Once they're 100 percent set, take a small pair of nail scissors and trim around the edges of your nails. Finish up by sealing the whole thing with a third coat and give your nails plenty of time to dry.
Feather nails will last a few days, longer if you're gentle with them. Having a friend help with applying the feathers also makes this much, much easier. So see if you can get some of your birds of a feather to flock together for a manicure party and give the look a try.