How to Get Nicole Richie's Plaited Bun at the 9th Annual Style Awards
Oh My Gosh, Look At Nicole Richie's Bun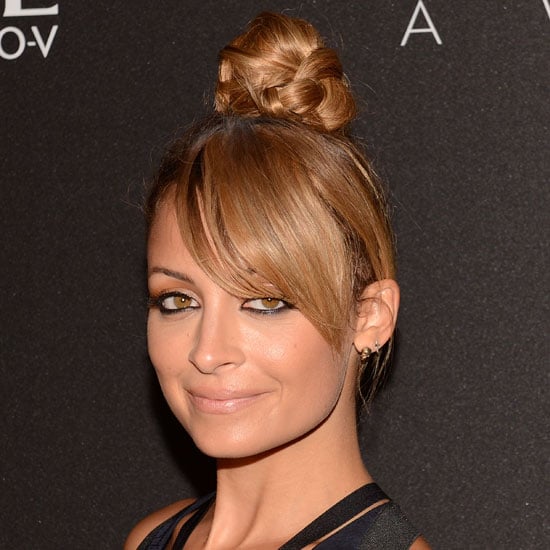 Over here in the land of beauty, Nicole Richie's bun isn't just any old bun, it's a perfectly plaited bun. It's sleek, and neat, and her hair colour is so creamy it is almost edible. On the red carpet for the 9th Annual Style Awards in New York today, Nicole let her fringe sit relaxed to the left, and kept the right side tight and clean. It's a cute hairstyle for the pint-sized star, and one that is surprisingly easy to get at home. Weekend up 'do inspo anyone? Click through to find out how.
Start by using a bristle brush, like the Mason Pearson Pocket Bristle Brush ($103.51), all over to flatten and smooth the hair.
Flip your head upside down and brush hair in a downwards motion and secure into a very high ponytail. Try to use a medium size band here, and one with strong elasticity.
Lightly spray the hair surrounding the pony with a medium hold hairspray like Moroccan Oil Luminous Hairspray Flexible Hold ($34.95), and then lightly spray the ponytail. This will create some texture for the plait.
Plait the ponytail all the way down to the end, getting as close to the tips as possible, and secure with a thin hair tie. You might even like to pull the plait out a little at this point, to get a messier look.
Wind the plait into a bun around your ponytail at the top, and tuck the end underneath the bun.
Grab a handful of pins and secure the plait. Try and find your original, medium-sized elastic, and place the pins into it. This will give you an extra firm bun.
Finish with another spray of hairspray and give yourself a pat on the back.