How to Prep the Skin For Makeup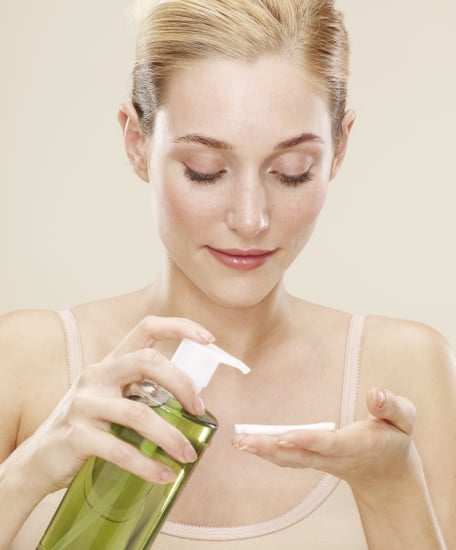 The easiest way to make your makeup look smoother and prettier (and last longer) is to first prepare your skin accordingly. So after you wash your face and pat it dry, what's next? Find out your go-to guide for getting the skin ready pre-makeup when you keep reading.
Exfoliate: Once the face is washed with a cleanser appropriate for your skin, exfoliate with either a physical (like a grainy scrub) or chemical (such as a liquid) exfoliator that's gentle enough for daily use. Sloughing off dead skin cells will help create an even surface for makeup to glide onto. Bonus? Your skin will look brighter because of it. Tip: multitask and use an exfoliating cleanser.
Toner (optional): If you have really oily or acne-prone skin, or if you feel like you still have remaining traces of makeup or residue, a toner can help. It's not a necessary step but can provide extra "cleansing" as needed. It's also important to note that today's toners, unlike their ultra-astringent counterparts of the past, are often also formulated with soothing, calming, and hydrating benefits.
Serum (optional): Whether it's for firming, brightening, or minimising hyperpigmentation, serums work to treat and correct. Think of them as if they were like vitamins for your face.
Facial moisturiser: Choose a moisturiser according to your skin type. You'll know it's too heavy for you (or that you've overapplied) if your face still feels greasy after about five minutes. Tip: multitask and use a moisturiser with an SPF.
Eye cream: Using your ring finger, pat your eye cream gently around the orbital bone area. By gently dabbing the product in, you'll increase circulation to the area to help move the cream deeper into your skin.
Sunscreen: If you haven't already applied sun protection, now's the time. Remember: apply sunscreen right before makeup.
Prime time: Finally, to ensure your makeup doesn't slip and slide all day long, use a primer pre-foundation and pre-concealer for flawless results. While it might seem like a lot of steps, you'll find that getting your skin in good shape first will give you the perfect palette for which to apply your makeup.