How to Put the Shine Back Into Your Hair
Three Ways to Get Some Clarity (In Your Hair)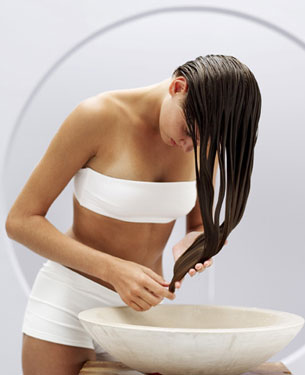 If you're scared to go near a naked flame for fear of catching alight, chances are you use a lot of styling products in your hair. Hey, I'm not here to judge, but I'm guessing you could use a tip or two on removing the product build up. Sure, there are a whole heap of clarifying shampoos on the market, but if you're after a quick fix, it's time to have a riffle through your kitchen cupboards:
Baking soda: When mixed with a regular shampoo, baking soda helps to remove residue. Fact.
Cider vinegar: After your first shampoo and rinse, measure about 1/2 cup of apple cider vinegar in a pitcher and add about four cups of water. (It's probably a helluva lot easier if you do that before your first shampoo. Suddy eyes and all that jazz.) Pour it over your hair, and here's the trick: don't rinse it out.
Eggs and lemon: Mix together one egg with a dash of lemon juice and add to your normal shampoo. Lather and rinse. The leftover eggs and lemon have pancakes written all over them.