How to fix Green Hair, Peeling Skin and Chipped Nail Polish
5 Post-Swim Beauty Fixes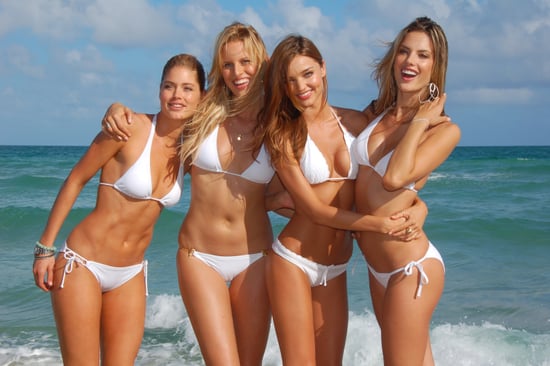 You've been living out all your mermaid fantasies in and out of the water this Summer, but perhaps your body is suffering from chlorine overload (or salt saturation) as a result. Spending time at the pool or beach can wear down your hair, skin, and nails. If you follow these simple steps after your next dip, though, then you'll be sure to elude beauty disaster. Find out how to erase red eye, revive chipped polish, and more when you keep reading.
1. Red eyes: Contrary to popular belief, it's not necessarily chlorine that causes inflamed, burning eyes at the pool. In fact, research attributes red eyes to germs found on people, such as cosmetics, dirt, and sweat, that mixes with chlorine in the water. Avoid looking bloodshot by rinsing eyes with water and then using drops like Visine Advanced Relief Eye Drops ($7.69).
2. Green hair: Chlorine mixes with copper in pool water to tint blonde hair sea-monster shades. And although pastel hair colours are abound this season, green hair hasn't quite made the trend list . . . yet. Be sure to sidestep an unwanted dye job (or dried-out strands) by applying a leave-in conditioner before your laps for protection, followed by a thorough shampoo post-swim. Try Kiehl's All-Sport Swimmer's Cleansing Rinse for Hair and Body ($24) or a natural vinegar rinse to restore your hair.
3. Chipped polish: Salt, sand, and poolside stucco can wreak havoc on a pedicure; be ready to repair your nails at a moment's notice by keeping the same shade on hand for touch-ups. You can dip a toothpick in the lacquer to fill in a chip. Or, use polish remover to smooth the nail, then top with another coat of polish. Voilà! You'll have sandal-ready feet once again.
4. Tan lines: Despite your sunscreen efforts, your criss-crossed bikini has left you with a graphic tan design that doesn't mesh with your late-night outfit change. Blend tan lines in a hurry by using a fast-acting self-tanner like St. Tropez Instant Glow Body Lotion ($26.96) on pale spots. Then, exfoliate regularly to help fade the lines faster.
5. Peeling skin: After you've been playing beach bum for days, perhaps the peeling process has begun. Reach for an aloe-rich lotion to soothe dry and irritated skin, or take the spa route and hop into a milk bath for a healing soak.