Indah Founder Teisha Lowry's Facts About Coconut Oil and What We Need to Use It
Extra Virgin Coconut Oil: Why You Need It In Your Life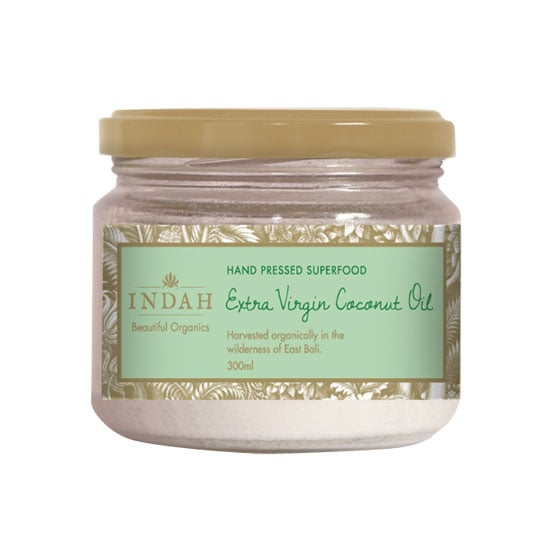 Coconuts. Those round balls of tropical goodness are having a bit of a moment, with celebrities including Lara Bingle and Jesinta Campbell claiming they eat the insides, drink the water and lather the oil on their bodies. Now I'm no celebrity, but I joined the coconut love society (I should trademark that) about six months ago and let me tell you, it's a very special little nut. Yesterday I met with ex-model and inspiring businesswoman, Teisha Lowry, founder of the organic beauty range, Indah. She is so pretty I forgot my questions, so it's lucky she's a wealth of knowledge on essential oils for skincare, and, coconuts. A qualified aromatherapist, Teisha produces body butters and balms, but her bestseller is her hand pressed Extra Virgin Coconut Oil ($15). To find out everything you need to know about coconut oil, keep reading...
Here's what you need to know about the product:
Coconut is the mother of all superfoods. It helps fight off the free radicals that are constantly attacking your cells.
Indah Extra Virgin Coconut Oil is hand pressed using fresh coconut flesh and is free of chemicals, artificial flavours and preservatives.
The wild organic coconuts are grown in rich volcanic soil on the slopes of Mount Agung in Bali.
The coconut oil softens and heals dry skin, removes dead skin cells and encourages new, healthier tissue.
It is 55-57 percent high in lauric acid, which is also found in breast milk (weird but cool) and has antimicrobial properties. It is a medium chain fatty acid and provides your body with pure energy. It also contains capric and caprylic acids.
Coconut oil has anti-ageing properties and hydrating (drinking coconut water is more hydrating than water).
Coconut oil's daily uses:

Cooking — Use in replacement of your normal cooking oil.
Smoothies — It'll thicken them up and make them taste even more delicious.
Makeup remover — Teisha puts the oil on her face and leaves it for about 15 minutes. It lifts the makeup from the skin because only oil can break through oil!
Hair mask — Cover your hair in the oil and leave overnight for a truly nourishing treatment without the oily residue.
Body moisturiser — Lather all over your body. It will also exfoliate your skin.
Supplement — Teisha has up to three tablespoons a day. That's right — eat it like icecream!