Interview With Clear Scalp & Hair Beauty Therapy Ambassador Miranda Kerr About Food, Hair Care & Beauty Tips
Hair Care Tips, Cheat Food & Skincare: 5 Minutes With Miranda Kerr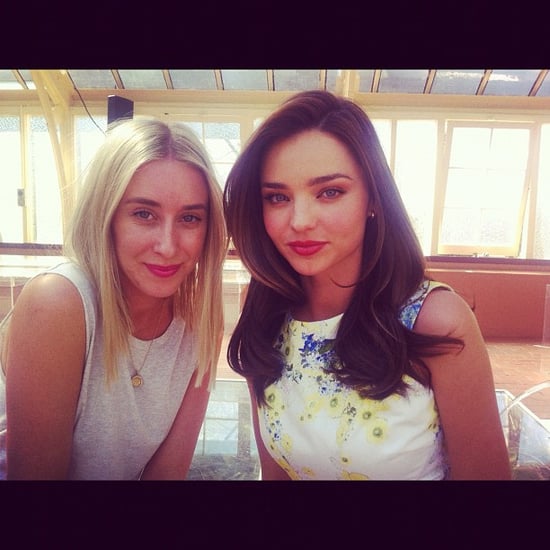 I was lucky enough to spend some time with Miranda Kerr today (now I know it's hard to tell, but that's me on the left), following her new appointment as the Australian ambassador for Clear Scalp & Hair Beauty Therapy. The hair care range consists of four shampoos and four conditioners, each enriched with a blend of vitamins and nutrients to nourish the scalp. Clear is all about creating a healthy foundation for hair to grow and prosper — very much inline with Miranda's from-the-inside-out approach to beauty and wellbeing. I must say, it's a lovely fit. But now, the questions! To find out everything from her favourite cheat food to what she does when she feels bloated, click through.
What is it that you love about Clear Scalp & Hair Beauty Therapy? Clear focuses on nourishing the root of our hair, and for so long I feel that I was looking at the wrong end and only nourishing the tips of my hair. What I like is this nourishes at the root and really makes a difference to my hair.
What's your daily hair routine like? I wash it every second day. It's important for my job that my hair is looking great and shiny and that it's lightweight. Shampoo and conditioner really play a bug role in that, and I really love the results I've been getting from using Clear.
When you're in Sydney, where do you go to get your hair done? I don't really... I'm always busy with work and I'm fortunate enough that people can come to me. I keep it pretty simple and get a trim on set sometimes.
Any insider hair tips you've picked up from being in the hair and makeup chair? Yes, scalp massage. If you're getting a massage, take some time to get scalp massage as well — it stimulates the hair. Also, rinse with cold water. Doing that closes the hair follicles and gets the circulation going!
Now I thought we'd do something a little bit different and get you to finish my sentence... Yeah, that's OK!
When my hair isn't behaving I... Tie is back in a ponytail.
My go-to lipstick right now is... Chanel Rouge Coco Shine in Rebelle.
My favourite tinted moisturiser is... Kora Organics.
My favourite foundation is... Chanel Lumiére.
When I'm feeling bloated I... Do some deep belly breathing.
When I get a breakout I... Put the Kora Organics Blemish Gel on it.
My favourite cheat food is... Dark chocolate.
My favourite snack is... Almonds.
My daily supplement routine is... I mix it up. I like to have noni juice and sometimes aloe vera. I try and get as much nutrients from my food and not worry too much about it!
My daily skincare routine is... Cleanse, mist and moisturise — day and night.
My beauty routine during a long-haul flight is... Rose hip oil. When you get off the plane, instead of your skin being dehydrated, it is glowing and fresh.
My favourite blog to read is... I'm quite big on Instagram at the moment.
Wax, laser shave? I shave my legs and laser my... other bits!