Interview With SK II Ambassador Kate Bosworth About Her Skincare Routine, Favourite Lip Products and How She Styles Her Hair
Kate Bosworth on Skincare, That Hair & Her Favourite Lip Products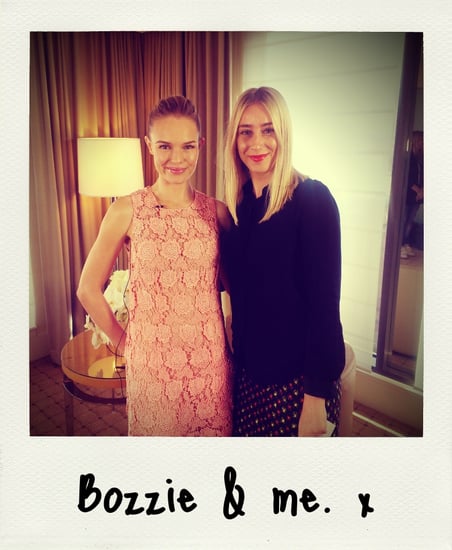 Sydney's beauty media has been in a bit of a stir this week, following the arrival of the beautiful Kate Bosworth. Here on the back her announcement as SK-II's newest ambassador — she joins Australia's screen darling, Cate Blanchett. I attended a dinner in Kate's honour last night, and then settled in for a chat with the pretty blonde first thing this morning. We had our interview filmed — so stay tuned for our lovely edit — but in the mean time, read the full interview and find out what she had to say about her skincare routine, favourite lip products and how she styles that famously tousled hair. Keep reading.
Can you tell me about your personal relationship with SK-II – were you recommended the products?
"I was introduced to the SK-II brand when I was in the 21 press tour, and when you're doing a press junket your skin takes a little bit of a beating — having makeup on and having makeup off — and needing a little extra lift and some extra help. So my makeup artist at the time used the SK-II Facial Treatment Mask and it's really remarkable, I carry it with me everywhere now when I do press or a premiere. It makes [the skin] look like you've had a beautiful night's sleep — even when you haven't! Just that tightening and brightening all round."
Can you tell me about your new role as ambassador for the brand? How did they approach you?
"I was thrilled that they were interested in me being an ambassador for the SK-II brand — they're a company that has a lot of integrity. They first called my agent and asked if I used the products and I was impressed by that because to them the number one thing that's most important with their ambassadors is that the SK-II products are part of their lifestyle and they've seen results and this is an experience they want to share with the rest of the world, so, I was incredibly honoured and excited and I've used the brand for years now. It was a great match."
What does your daily beauty routine entail?
"I am a relatively low maintenance person in terms of makeup and hair. You know with the amount of products that I use and what I really love about the SK-II brand is you can really tailor a program to suit yourself. I always cleanse with the SK-II Cleanser, I use the Facial Treatment Essence morning and night after cleansing, and on a day to day basis, I use the Cellumination which is just very beautiful — very brightening and light. If I'm travelling or doing a lot of press and my skin takes a bit more of a hit, I'll use the Skin Signature which is a little bit richer and more moisturising."
Do you have regular beauty treatments?
"I see a facialist in LA. I don't really have a schedule as to when I see her, it's just more about when I feel like I need just extra overall care. Going a couple of months working on a film or travelling a lot."
What makeup product is on high rotation for you right now?
"I'm really loving the Fresh stains. I don't know if you get that product over here?"
I don't think we do... Is that a lip and cheek stain?
"Well it's kind of a lip balm, but it does have sort of a stain. There's a range of colours from berry to something a bit more rosy. What I love about them is that they're so moisturising. Sometimes when you're using makeup it can be a little bit dehydrating for your skin and these are just so beautifully moisturising as well as a beautiful colour."
I think you have the most beautiful hair but I know it's very thin like mine, so I'd love to know what styling products you use everyday to create such amazing texture.
"Well in press situations I have some help from very talented people! But on a day to day basis I'm incredibly low maintanence with my hair — I just let it air dry. And kind of give it a scruff... I don't use any products."
That's interesting to know! You're often seen with a bright lip, which we all love in the Sugar office.
"You have a bright lip on!"
Yes, I do [dies of happiness inside]. Do you have a favourite shade or brand that you like to wear?
"It depends I guess on really mood and season. Sometimes in the Spring I'll want to wear something a little bit more brighter like a coral orange or maybe a neon pink, and in the Winter it's more or a berry kind of wine stain. I like YSL [they] have nice pigmented lipsticks that are kind of bright. So that's a good one."
You've sat in many a makeup chair – have you picked up any amazing tips along the way?
"Well... I'm pretty low maintenance so I kind of just let them do their thing. I am attracted to products that you can kind of get your hands in and use the stain as a lip or a cheek stain and just have it all in one and throw it in my bag and have it be very easy."
Do you know what the lip was you were wearing last night? I'll have to ask [your makeup artist] Liz...
"I believe it was a Tom Ford."
Can you tell me when you feel most beautiful?
"I feel most beautiful when I'm with my partner, for sure."
Do you have a beauty icon – someone you look to for hair, skin and beauty cues?
"I've always really looked to Cate Blanchett. She has such a beautiful confidence and serenity about her and I feel that, you know, true inner peace shows. We always need to take care of our skin and health but really being at peace with yourself and feeling good about yourself comes from within. And she feels like she really has that mastered. She's amazing."
To read the rest of my interview with Kate where she dishes on all things style and dressing for the front row, head over to Fab.