Interview With Val Garland and Her Makeup Tip
The Product a World Famous Makeup Artist Won't Leave the House Without...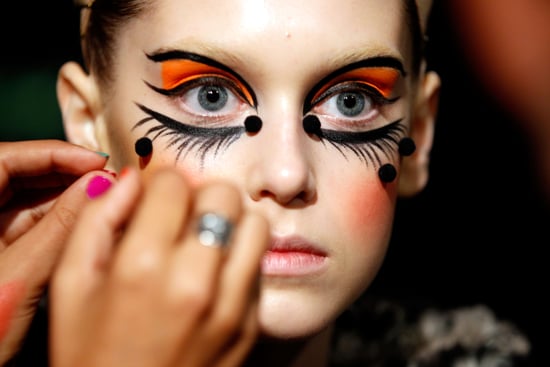 Last week, we were lucky enough to meet esteemed Mac Cosmetics makeup artist, Val Garland. Val has worked on famous faces including Kate Moss and Lady Gaga, and is seen as somewhat of a visionary in the industry. Her work at the Romance Was Born show brought out "dolly daydreams" (pictured), and the lip she created at Lisa Ho she likened to murano glass. We interviewed Val backstage and there was one product in particular she raved about. Said she wouldn't leave home without it... Keep reading.

"I use Elizabeth Arden Eight Cream on everything and anything! Eight Hour Cream is great for lips, you'll see it on the [Lisa Ho] catwalk today because as well as highlighting, I put it [on the top of the cheek bone) because that makes the highlight go 'Woooo!'," says Val.
"It is also great for the eye, because people go, 'I am going to put lip gloss on the eye', but it is always too thick and it doesn't work but one little dot of that is amazing. If a model has a scuff or a cut or an infection, it's great for flaky skin, dermatitis, eczema — it is my go-to, I love it! I would never not have it in my kit."
Elizabeth Arden stockists: 1800 811 611