Invisalign Review: Acceledent and Attachements
6 Months to Perfect Teeth: My Invisalign Review, Part 2
Earlier this year, I reviewed the initial stages of having Invisalign fitted to my once crooked teeth and now, 15 weeks into process, I'm seeing real results. I covered my first consultation with The Invisible Orthodontists' Dr. Baisi, and also my choice to pay upfront for Acceledent. Adding Acceledent to my treatment means I have to wear my aligners for half the amount of time. For an extra $1400, my treatment plan went from 12 months down to, at this stage, five and a half months. The main reason I opted in is because I'm getting married and I want to have the finished product (perfect teeth!) on my big day.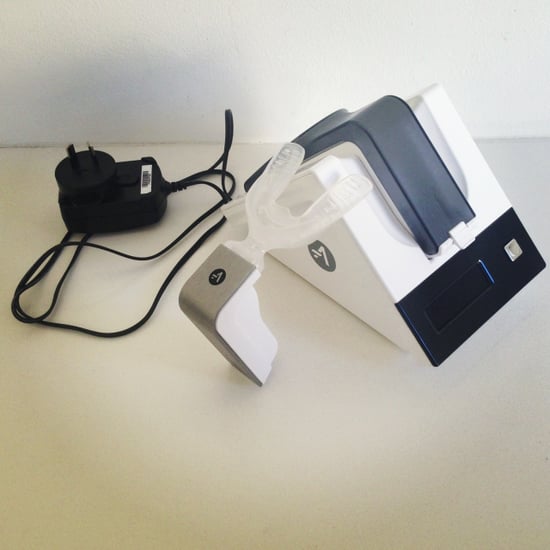 Keep reading.
Above is the machine that charges the device resting in on the side. I was fitted for the flat mouth guard-like plate, and it attaches to the metal section you hold onto, and emits high-frequency gentle vibrations for 20 minutes each time. I have to, and do, use it every night before I go to sleep. The vibrating enhances the force applied to the braces, persuading teeth to move quicker. I actually find that any dull pain I am experiencing from new aligners is reduced after using Acceledent. Win/win!
In my last post, I also mentioned having attachments fitted at four weeks. Not everyone needs these but if you have stubborn teeth (I have six!), your orthodontist might use these little bits intrinsically shaped enamel to help move things along. They make the aligners slightly more noticeable, but it's not really a big deal. Below is me at four weeks, the day I had my attachments put on.
To have them, err, attached, is simple and pain-free. They're just glued on and buffed into funny shapes. The other thing I had to have done at the four-week mark, was some slight shaving between crowded teeth. This was probably the most unpleasant part of the Invisalign process so far, but it didn't hurt at all. Promise! A mini, vibrating saw-like tool was used to create gaps so small, I couldn't even see them with my own eyes. While this was happening, water was being sprayed into my mouth, so that was why it was a little unpleasant. It was over in 15 minutes. My attachments will stay on for the remainder of my treatment plan, for which I have, tentatively, another six weeks to go. Exciting!
A lot of people ask me how I go with eating out, drinking coffee etc. To be honest, it does get a bit annoying having to take the aligners out every time I want to eat — even for a quick snack on the run! — but it's done wonders for my waistline. I no longer eat the lollies and chocolate that come into the office, and every meal I eat is a planned one. So my diet is actually much more considered, and I eat for a purpose — nourishment.
I drink coffee with my aligners in, but I have a soy latte so it isn't overly dark. I then rinse my mouth and the aligners. I am careful with red wine. I sometimes drink it with my aligners in, but usually at home only. They definitely stain a shade of purple, but it brushes off. My teeth often feel "soft", but it hasn't stopped me from chewing tough food or eating almonds. I just chew slower!
Any questions? Ask me below.
To find you nearest Invisalign provider, visit The Invisible Orthodontist.