Invisalign Review and Does Invisalign Work?
6 Months to Perfect Teeth: My Invisalign Review, Part 1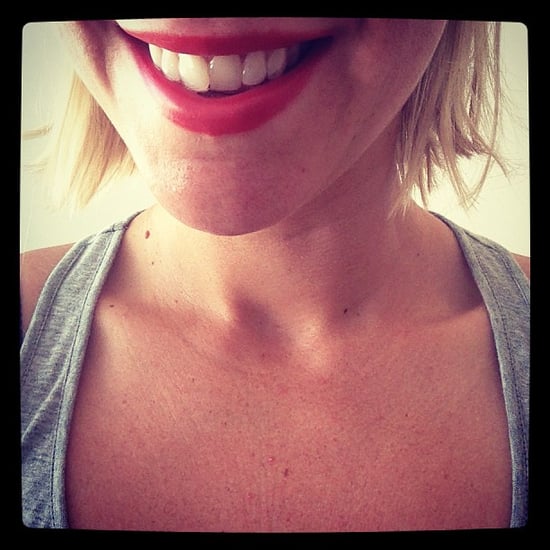 That's a pretty outrageous statement, right? It's hard to believe that these days, we can have our crooked teeth corrected in as little as six months. Late last year I was invited to have a consultation with Dr. Baisi — a member of The Invisible Orthodontist group. This group of orthodontists specialise in Invisalign, those magical, near-invisible braces. Of course I jumped at the chance because while my teeth aren't that crooked, they are crowded in the front and it has always bothered me. I've considered having Invisalign fitted for years, so this was finally the push I needed to find out if it would work for me. To hear about my initial consult, keep reading.
I met with Dr. Baisi at his Macqaurie Street clinic in Sydney, called The Ortho Practice. After lying down in the dental chair, we had a lovely chat about my teeth, and then he had a little look and told me I was a candidate for Invisalign — joy! A dental nurse then came in, inserted a harmless contraption that held my mouth open, and took photos of each of my teeth. This took about 20 minutes, and the end result? An Invisalign movie. The movie simulated the changes my teeth would make over a 12 month period, and I was sold.
Dr. Baisi took some before pictures, made a mould of my teeth, sent me for an x-ray next door, and forwarded my details to the US, where the "aligners" are custom-made. It takes six weeks for them to be made, so I booked in to start my treatment in late January of this year.
Some facts
The clear trays (to be worn at least 22 hours a day) are called aligners. They're made of clear, strong, medical grade non-toxic plastic; and look exactly like the thin tray you would wear to whiten your teeth.
The aligners are to be taken out when you eat (or drink anything extremely hot or dark in colour), and they pop in and out relatively easily. I use a tiny leaver so as I don't chip my nails!
Every fortnight, the aligners are changed and you enter a new stage of the treatment. Each set of trays is slightly different, and that's how the teeth are persuaded to move. You generally take a few months worth of trays away with you after each check-up.
It doesn't hurt. I experience minimal discomfort with new trays, but only for the first day. It's more like pressure than pain.
They really are invisible. I had to remove them to convince my fiancé I had them in!
Invisalign is available on a payment plan, which is how I decided to pay for mine. I pay in monthly instalments, but you can also pay fortnightly etc.
The cost varies from patient to patient, depending on how long your treatment plan is, and any extra work the dentist might need to do. My treatment plan came to a grand total of $8160.
Attachments
Some people (like me!), will need to have "attachments" applied to stubborn teeth. These are tiny, near-invisible bits of enamel that are shaped to help the aligner grip and move the tooth. During my initial consult, Dr. Baisi told me I'd be having six of these fitted, four weeks into my treatment. Once fitted, the attachments made the aligners more prominent, but it's nothing major — they're still hard to see.
Acceledent
If you're in a rush and want to speed up the Invisalign process (me again!), you can purchase Acceledent. This is a hand-held mouth guard of sorts, that you must wear everyday for 20 minutes. It vibrates gently and helps move teeth faster, halving the treatment time. That's right, halving (amazing). You can't add it onto your payment plan, you have to pay for it upfront. I got engaged during the six week waiting period, so I decided to buy the Acceledent so I could be finished in six months. Cost: $1400.
Stay tuned for Part 2 of my Invisalign review, where I run through: getting my attachments, err, attached; the dentist "shaving" between some of my teeth to create room; how I negotiate eating and drinking; me using my Acceledent and more.
To find you nearest Invisalign provider, visit The Invisible Orthodontist.