Jennifer Aniston Perfume Ad For Lolavie
Jennifer Aniston's Perfume Story Is "Too Personal to Tell"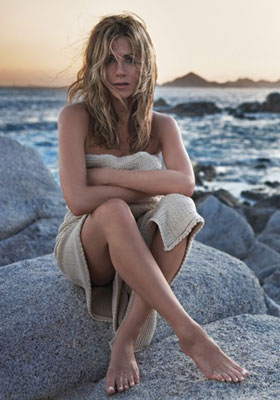 When it comes to her perfume, Jennifer Aniston has something to reveal — and something to hide. Rumors swirled that it would be called "Aniston," but Jennifer's debut scent will be known as Lolavie. The fragrance will launch in the UK first in June, followed by a global rollout later.
Jennifer, who grew up wearing scents such as Miss Dior and Anais Anais, says she was aiming for a "nonperfume perfume" inspired by her love of the outdoors. "I want people to go, 'What is that? You smell great!' But most of all I wanted it to smell natural," she told WWD.
To that end, she says the scent is "sexy and clean" and "floral, but not too flowery." Although she gave WWD those hints about the scent, she's staying mysterious about the story behind the fragrance's name. "It's a long story and honestly it's too personal to tell," she said. "But it has special significance." For the rest of the details, read more.

A story too personal to tell? Hmm. WWD notes the name's phonetic similarity to the French phrase "l'eau la vie" — and the ad campaign's prominent ocean views support that theory.
Surely nobody will use this private story as a chance to speculate on Jen's romantic life. Any theories on your end?