Kate Middleton Hair and Makeup Tutorial
12 Days of Christmas Beauty Inspiration: Kate Middleton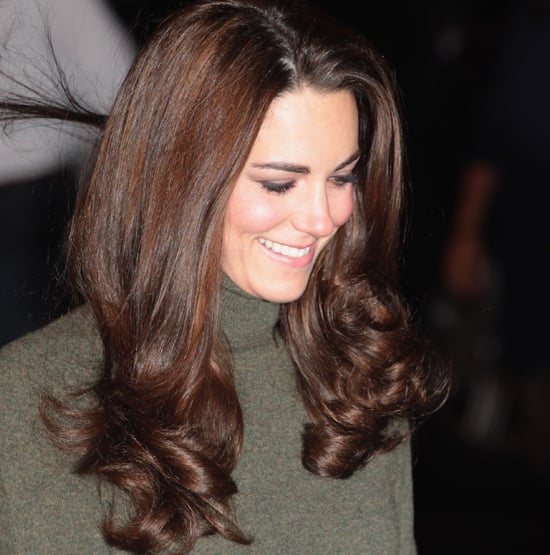 Kate Middleton was one of the standout stars of 2012 so it makes sense that people would be inspired by her beauty look for parties this holiday season. Her famously sleek, yet bouncy blow-dries have earned her a place on our Best Tressed list so we're sharing how to emulate her style, along with her classic makeup palette in today's how-to. Get the royal treatment now.
HAIR: Start by shampooing and conditioning the hair, remembering to only condition the mid-lengths to ends of the hair. You don't want the roots to go limp and stick too closely to the head as Kate always has a little volume at the crown. To boost that, add in a root-lifting volumiser such as O&M Rootalicious ($29.95) and begin to blow-dry sections using a round bristle, brush to guide hair into a natural curl at the ends. If your hair is poker straight and has trouble holding shape, use hot rollers like Babyliss Pro Ceramic Jumbo Hot Rollers ($93.46) to add extra bounce to the mid-lengths to ends. Tip: lightly mist each section with hairspray before applying the roller and after removing the roller, pin up the "curl" until it cools to help it hold its shaper for longer. Use a shine spray such as Ghd's Final Shine Spray ($20) to finish.
MAKEUP: Kate's known for her love of neutral, earthy tones and Bobbi Brown makeup so if this look is something you'll be doing regularly it's worth investing in a couple of Bobbi Brown shadows. We recommend Taupe or Cement as a base shadow and Mahogany to add definition. You'll also need a pink blush and a sheer pink lip gloss in your arsenal. If you're looking to save some space in your makeup bag, opt for a 2-in-1 like Bobbi Brown's Pale Pink Pot Rouge for Lips and Cheeks ($58).