Katy Perry Says She Never Feels Pretty
Katy Perry Tells Seventeen Mag That She Never Feels Pretty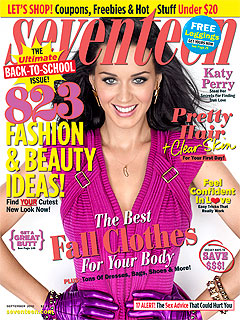 Katy Perry's opening up about her looks in the new Seventeen magazine. In it, she raves about her fiancé, Russell Brand, saying that he's taught her a lot about inner beauty and confidence. But the following quote is kind of sad for someone who always looks beautiful to us:
"I don't really feel pretty ever. Without makeup, I feel ugly. And so I would have to sleep with makeup on, or feel ugly and gross. He looks beyond all of that, which is such a win, because I've never felt that with anybody."
Does it make you feel relieved that even celebs have their down days? Or are you left wondering that if someone as pretty as Katy Perry calls themselves "ugly and gross," then we should all be worried. Is her honesty and candour about her feelings a good thing or not? Thoughts?