Keep Your Sunglasses From Ruining Your Hairstyle 2009-09-11 10:00:00
How-To: Keep Your Sunglasses From Ruining Your Hairstyle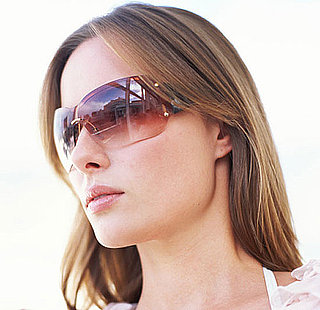 Even though the warmest season of the year is officially over in just a few days, that doesn't mean we can't still talk about sunglasses, right? I'd venture to say that even though the temperatures may dip, the majority of us wear sunglasses year-round, depending on how much the sun decides to shine. If you're like me, you probably put your sunglasses on your head, but this can cause some major styling hassles: hair caught in the hinges, dents in your hair, frizz, etc. So I've put together a few tips to keep your hair looking great and dent-free. Just keep reading.
Skip the mousse. It may volumize like whoa, but it fails under the weight of your frames, creating those weird dents in hair. Substitute a root-lifting spray, like Nexxus Root Exxtend ($14), instead.
Avoid frizz by working a little shine-enhancing serum, like ghd Shining Serum ($18), from the ends upward. It's almost weightless so it won't make your hair look greasy, and it'll keep your glasses from ratting up your hair. One word of warning: women with very fine, light hair should skip this one. Even a little product at the roots is probably too much in your case.
Pull your hair back off your face and secure it firmly. There's no better way to keep your hair perfectly coiffed while wearing shades.
Wear braids. They stay in place and won't be ruined by your shades.
Try a center part; it'll keep your hair from looking uneven and your sunglasses won't undo your styling.