Kiehl's Spa 1851 to Open in New York City at 157 East 64th St.!
Reason #752 to Take a Trip NYC: Kiehl's to Open Spa 1851!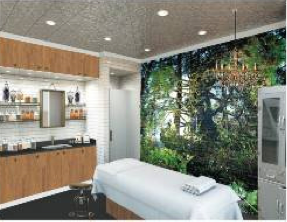 As if we didn't need another excuse to make a trip to the Big Apple, next month, the 160-year-old brand is opening its first-ever spa. Spa 1851, located on 157 East 64th St., will feature treatments for hair, skin and body. Naturally, all will incorporate the same Kiehl's products that have earned a cult following — after all, what would a body treatment be without the classic Creme de Corps lotion? — but guests can expect added perks like customised, hand-blended masks used in facials. The spa and men's grooming lounge, set to open mid-July, has a private entrance and offers iPads for guest use, eco-friendly robes and exclusive Havaianas sandals for wear during treatments. In building the spa, Kiehl's incorporated sustainable woods, subway tile accents, countertops made with recycled paper and reclaimed tin ceilings. The three treatment rooms feature chandeliers inspired by the original Kiehl's apothecary, along with art such as a rainforest photo mural by famed photographer David LaChapelle. Somebody book us a ticket!