Kristen Stewart's Balenciaga Florabotanica Fragrance Campaign Revealed
Kristen Stewart's Balenciaga Paris Fragrance Campaign Revealed, and What She Had to Say About It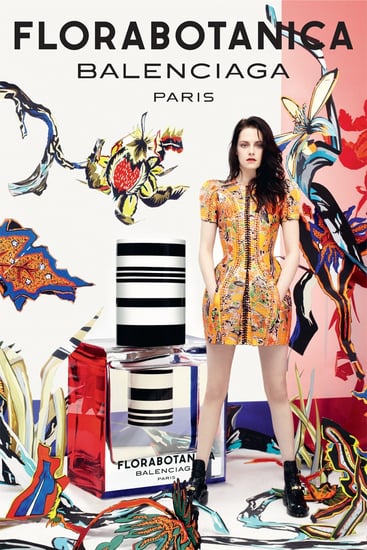 Balenciaga Paris' new fragrance, Florabotanica, is "not just a pretty flower, but a pretty dangerous flower." Fronted by Kristen Stewart, it is the first scent she has ever worn. The 22-year-actress told WWD that due to her tomboy tendencies growing up, stealing her mum's perfume wasn't high on her list of priorities. "I was like hanging out with my brothers and doing the opposite of that," she said.
So why now and why this juice? "There is something natural about it," she explained. "It's very alive. I think that as a young person wearing it — considering that I've never worn a scent — it kind of puts you on this level of, like, 'Whoa, check me out.' " The actress also admits she would have done anything related to Balenciaga designer Nicolas Ghesquière, who first fell for Kristen back in Panic Room. She's of course come a long way since then, being named Hollywood's highest earning actress last year.
"Even though, yes, it's an ad and we're selling a fragrance — I don't want to sound pretentious — but I want to be part of this art project," she said. "I want to be around Nicolas when he gets excited about fabric. I want to see the look on his face when he sees me put on a dress."
We love this mature, feminine side of Kristen! What do you think of the campaign?