Kristen Stewart's Breaking Dawn Makeup Artist on Bella Swan's Makeup Look
Kristen Stewart's Breaking Dawn Makeup Artist on Bella's Look
The wedding scene in Breaking Dawn: Part 1 is enchanting and Bella Swan's bridal makeup is one of the most flattering wedding palettes we've seen in recent history. Kristen Stewart's makeup artist for the film, Stacey Panepinto, gives us tips on how to get Bella's exact look, along with a glimpse at what it was like to work behind the scenes of the latest Twilight movie.
What was your inspiration in creating Bella's makeup for the wedding? Kristen and I always go into things with an open mind. We have worked together before and there is a trust between us. For Bella's wedding, we had the chance to play with more makeup than usual. Bella's look is actually designed by Alice Cullen in the movie, so we needed it to reflect her vision of the wedding, which is very different than the way Bella would have seen herself.
Keep reading . . .What kind of feel were you going for, and how did you achieve the look? To achieve "Alice's vision," we decided to do a smoky eye and have the rest of the makeup complement that. Here is what to do:
Foundation primer: Use a makeup primer on the face to hold the makeup for long hours.
Foundation: Use a foundation combined with a brightening lotion so the skin would have a glow.
Prep the eyelid with eyeshadow primer. The key to keeping eyeshadow from creasing as the day goes on is to keep the lids oil-free.
Eyes: Sweep a light, shimmery shadow over the eyelids to your brow bone. Then apply a dark eyeliner to the top lid. Next, blend in a darker shadow colour starting at your lash line, blending up. Make sure to blend the dark colour into the lash line so the eye liner disappears. Stop deep colour at crease. For the bottom of the eye, use a soft pencil or the shadows and draw the line and then smudge it. Finish with a couple of coats of black mascara on both sets of lashes.
Blush: Use a sheer pink blush on the apples of her cheeks for a hint of colour.
Gloss: Apply a pink-toned lip gloss to finish the look.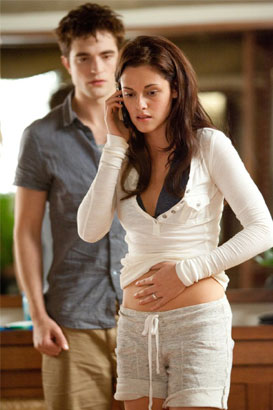 As Bella becomes pregnant and faces difficulties in her pregnancy, how did you adapt her makeup to reflect that? As Bella faces the challenges in her pregnancy, we stripped out the colour out of her face — and used an amazing special effects team to create the changes.
How do you think Bella's look in Breaking Dawn differs from the other Twilight films that are already out? This is the first time you will see Bella have several looks in a Twilight movie. In the other stories Bella has a very simple and natural look throughout. So although her "basic" Bella look in Breaking Dawn is similar to the other films, you will get to see Bella looking very different on her wedding day, during the honeymoon, and the pregnancy.
What kinds of colours and techniques do you use to create Bella's signature low-key makeup look? To get Bella's natural makeup look you need only a few key things:
A sheer foundation or tinted moisturiser to even out the skin.
A hint of blush, preferably a cream-based colour that blends nicely into the face.
A mascara applied very lightly and a good lip product to enhance the natural lip colour.
What were some of your favourite parts about working on Breaking Dawn, and what were some of your biggest challenges? The best park of working on Breaking Dawn was to be on the creative journey with Kristen and Bella. We also go to see some beautiful places and work with very talented people. The biggest challenge was the weather and long days. We spent a lot of time outside in the rain and snow and cold. Those elements are tough on the makeup and then combined with the hours it takes to shoot, it can get pretty ugly. However, I think we handled it well and the audience will be happy with how Bella looks.