Lancôme Teint Visionnaire Skin Perfecting Makeup Duo
Bella Review: Lancôme Teint Visionnaire Skin Perfecting Makeup Duo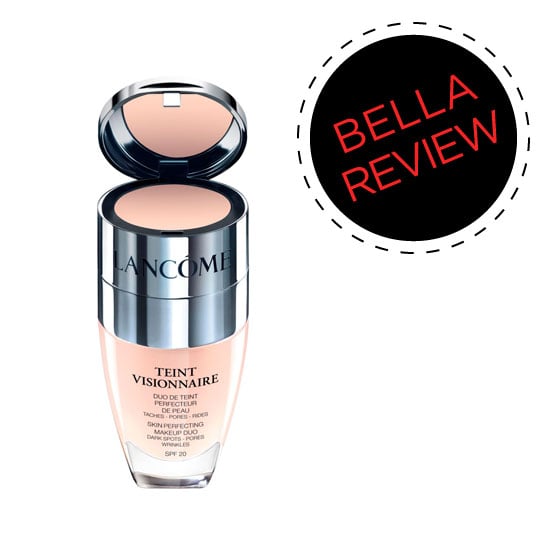 That's right, duo. You know I love me a hard-working product, and the best part about the Lancôme Teint Visionnaire Skin Perfecting Makeup Duo ($65) is it has a concealer inside the lid, along with a mirror. Now this isn't just any concealer, it is easily one of the best I've used. The consistency of the concealer is almost like a stick foundation, very thick. It is wax-like and glides under my eyes like a bat out of hell. If you think it's a little weird I'm singing the praises of the add-on concealer part of this new foundation, then you'd be totally wrong because I also love the main act, very much. And that's a lot coming from a girl who doesn't usually wear full-coverage foundation. I always feel like people can see foundation on my face, but this one is different. I liked it on first swipe and I've been wearing it every day since. It has a semi-dewy finish and because I'm oily, I go on with a powder around my t-zone just to keep things less... wet looking.
But I suppose you might like the facts? Lancôme Teint Visionnaire Skin Perfecting Makeup Duo contains LR 2412, the active ingredient in all the Visionnaire skincare aka, the stuff that makes the line so popular the world over. So actually, I am getting four things from this foundation: a pigmentation-reducing skincare treatment, a knock-out concealer, a compact mirror and a foundation. All for $65? That's what I'm talking about!
PS — Don't tell them I said anything, but my other beauty editor friends are using it, too.
Stockists: 1800 811 611