Lara Bingle's Hairdresser Tells Us How He Made Her Hair Darker and What Products Lara Uses
Lara Bingle is Going Darker, We Spoke to Her Hairdresser to Find Out How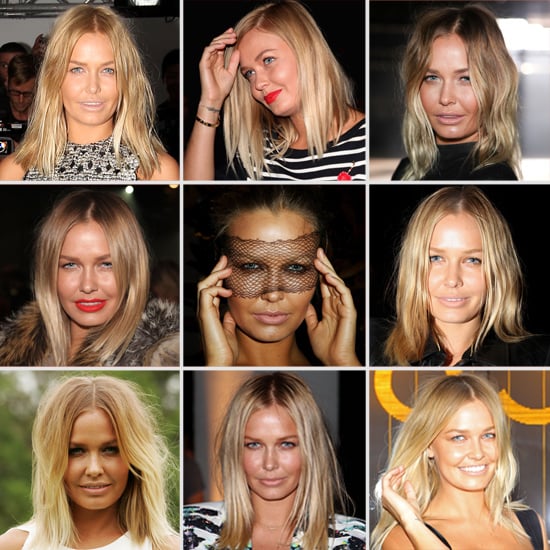 Our favourite Aussie blonde, Lara Bingle, is taking her signature messy locks darker. She posted a picture of her newly darkened hair to her Instagram account earlier this week, so we went straight to her hairdresser Jaye Edwards to find out how he made it happen. Going from a really cool, icy blonde, to a darker golden colour can be tricky, find out the steps Jaye took and what products he uses on Lara's hair after the break.
Be warned: "If you want to do it all in one go, you have to set aside a lot of time because so many things can go wrong," says Jaye. "You need to be prepared for it to not work out the way you want it to."
Add warmth and depth: "Firstly you start off by putting a non-permanent light copper colour over all the hair, and that will add warmth."
"The second step is putting a golden colour over again for depth – but without cancelling out too much warmth. But, this is the step where things might go a little bit too dark or it might not be warm enough."
Reassess: "With Lara's hair, it didn't turn out the way we expected the first time, so we had to go back in and put a bit of balayage back in, add a few lights pieces and then re-gloss it all. So the third gloss gave it that beautiful gold honey tone."
It's a gradual process: "We haven't decided [whether she'll go any darker] yet, but we're thinking about adding more warmth to it – like a caramel rather than a honey tone. Then we were thinking of putting a few lighter pieces around her face to add
Cut the ends: "We just cut [her hair]. Because we had to process it so many times, it's important to have quite a good chop – especially when you're going from one colour to another. Those ends are always the bit that doesn't go [the right colour]. So we just cut an inch off Lara's hair."
On the products Lara uses: "Lara uses Evo Therapist Shampoo ($29.95) and Evo Ritual Salvation Conditioner ($24.95). After she styles it, she puts in Evo Love Touch Shine Spray ($26.95).
"If you want more texture, my advice is to spray some of the Salty Dog Sea Salt Spray ($26.95) into the roots – not the ends. Then dry that in. If you spray it onto the ends, it makes it a bit too messy and not finished. So just focus on the roots."