Marc Jacobs New Bang Fragrance
Marc Jacobs Launches New Fragrance With a Huge Bang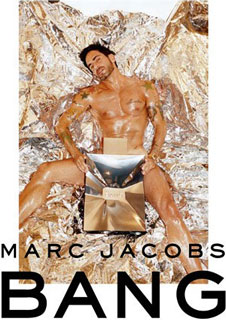 Well hello Mr. Jacobs. You're launching another fragrance for men, are you? And getting all naked and oily in the process. Okey dokey. Tell us all about it . . .
Marc Jacobs: It'll include pink, black, and white peppercorns at the top, y'know I love me some peppercorns, Bella. Then we're going all primal masculine woods at the middle, with vetiver, patchouli and white moss at the bottom.
Bella: Sounds marvellous. Tell us about the name you little rascal, you.
Marc Jacobs: Bang just came to me in the gym one day. So many connotations . . .

Bella: MJ, you cad. Who do you think will be buying it?
Marc Jacobs: Well the spicy new scent is marketed to the contemporary set; we think they'll like the crumpled-looking silver bottle. But anyone's who is young at heart and has a little twinkle in their eye, really.

Bella: Good luck, Mr. Marc. We think it's rather fabulous. What about you, dear readers, think it'll go off with a bang?
*Obviously as much as we'd love to get Marc Jacobs on the ol' dog and bone, he's a very busy man. But this is exactly how we'd expect it to go in real life. Maybe without the cad comment.