Miranda Kerr Beauty Interview 2019
Miranda Kerr Has a Mini Skincare-Fridge in Her Bedroom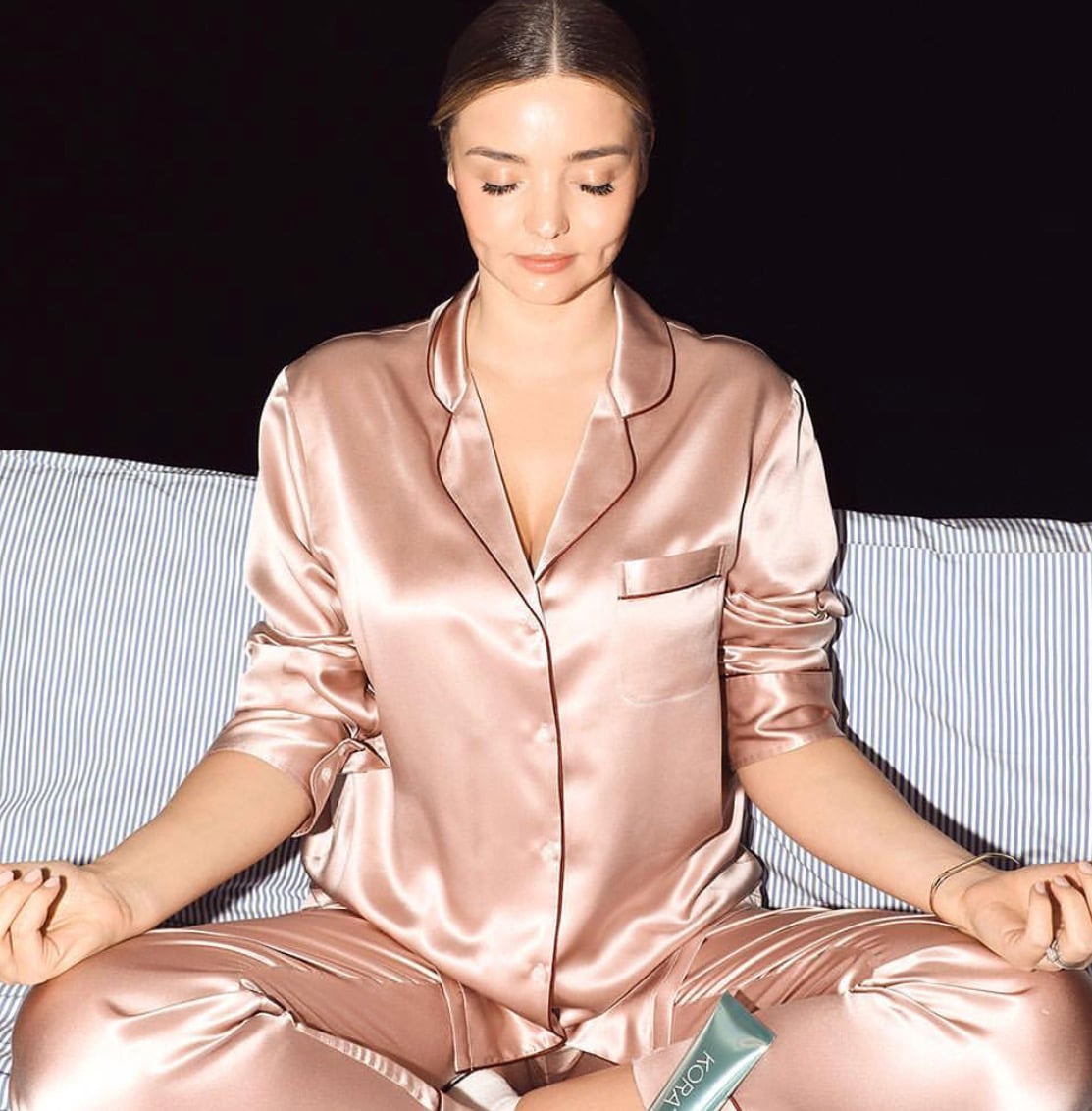 Sure, we all want to know what models and super-models alike are using on their skin to stay so consistently glow-y. But, when it comes to organic and natural beauty, there's nobody who can speak to this better than Miranda Kerr.

In support of her brands most recent product launch (that's Kora Organics, if you've been living under a rock), we spoke to the model, mother and organic-beauty innovator about why colour-coded calendars are her key to staying sane, the vitamin c serum she can't live without (hint: it's new) and the products she keeps in her dedicated beauty-fridge.
On Formulating a Vitamin C Serum
"This is the first certified organic vitamin c serum that I know of, so [I created it] because I wasn't able to find it, and because I'm pregnant I needed something that would be gentle but still effectively fights pigmentation, which is something I suffer with. And now that I'm on my third pregnancy, I just need products like that to keep it at bay. Also, I'm 36 now, so I wanted a product that would help with fine lines, wrinkles, skin firmness and elasticity, and this [vitamin c] does that! It's really powerful and it helps me with my pigmentation and hopefully with the fine lines! It also contains Ascorbyl Glucoside, which is a water-soluble derivative of vitamin c, so it's more effectively absorbed into your skin, as opposed to sitting on the surface. I worked with our organic chemist and said, "Is this possible to create?" and they were like "Let's get on top of it." and here we are!"
On Her Beauty Routine
"Every morning I use the Noni Bright Vitamin C Serum after I've cleansed my face, but before I've moisturised, so I'll do serum, face oil, then my moisturiser. I just feel like it definitely brightens my skin and helps with pigmentation. I mean, it's helping me feel youthful! The sleeping mask is also incredible for fine lines and plumping the skin, and it's got the natural hyaluronic acid . . . Basically, I couldn't be without my vitamin c in the morning and my sleeping mask at night. Sometimes I even do double at night — I'll do the vitamin c underneath moisturiser and the sleeping mask over the top!
I just love having my little routine and feeling taken care of so that my skin feels glowing and nurtured. I also have a little fridge; you know those little mini fridges? Well, I have one in my bedroom. So that's obviously good for a couple of products like the vitamin c and the gua sha, so I'll put the Rose Quartz Gua Sha in [there]. Using that, while you apply your serum is a really good tip for getting your circulation going."
On Finding Balance
"Obviously, it is very busy. No two days are the same, but everyone around me knows that my family come first, and I do my best to try and fit everything around their needs. But it's a challenge. Obviously, some days are more challenging than others, but I plan and use a lot of different colour-coded calendars to try and stay organised. But as much as I have a plan, I try to be as flexible as I can. I feel like it helps to have a guideline, but you have to be flexible within that.
There are little things that I do to keep myself centred, like for instance, during the week my husband gets up 5:30 a.m., but the kids don't wake up until 6:30 a.m., sometimes even seven — if I'm lucky! So, I have that time in the morning. I do a little meditation, or I love to get in the shower with my turmeric scrub and do an at-home facial with the mist, vitamin c, gua sha and the oil, or I can do some yoga stretches. So, I have that time in the morning which is really good. My son has a lot of activities going on, whether it be with school, or when he's on holidays he has different tutoring and things so it's all happening, but if I can, I plan things in advance so that I know I can try my best."
On Pregnancy
"With my skincare and wellness routine, I use all my own products. I actually launched Kora before Flynn was born, so Flynn was born in 2011 and Kora was launched in 2009. So, I haven't really had to change anything and that's been incredible. The Noni Glow Body Oil is so good for preventing stretch marks and Flynn was a ten-pound baby, so my belly was really stretched a lot! The body balm is also incredible, especially around the nipple area to prevent any stretch marks there and around the hips."
On the Clean Beauty Space
"I think it's definitely a positive step for the beauty industry. As you know I launched Kora back in Australia in 2009 when natural and organic products were hard to come by — you could really only find them at speciality health shops. I think the clean beauty movement is here to stay and will continue to grow and people are becoming more educated about what they are putting on their skin. In the past, it was only really pregnant women that were concerned about that, and you know, you shouldn't only be concerned about that when you're pregnant. All of us should be educated about what we are putting on our skin so we can make informed decisions.
Another thing is, certified organic products like Kora Organics, is so much more than just clean beauty because being certified organic means not only are we pesticide free and the crops aren't being sprayed but they are also grown on more nutrient-dense soil. There are rules and regulations where you're not allowed to grow over and over on the same soil, so, therefore, there are more nutrients in the soil, which produces more powerful ingredients in our skincare, which therefore gets better results.
I just think it's important to continue bringing out products that are innovative. For instance, we've just launched the Noni Bright Vitamin C Serum . . . and a few months ago, we launched the Sun-Kissed Glow Body Oil, and I don't know of another certified organic body bronzing oil. Continuing to push forward with organic beauty and innovate products that really give people the results that they need, because we really are a result driven company. I feel so fortunate to work with the best organic chemists and really give people the results that they want."