Natalie Portman Goes Old Hollywood Blonde For the New York Times
Natalie Portman Goes Old Hollywood; Calls Herself "Sloppy"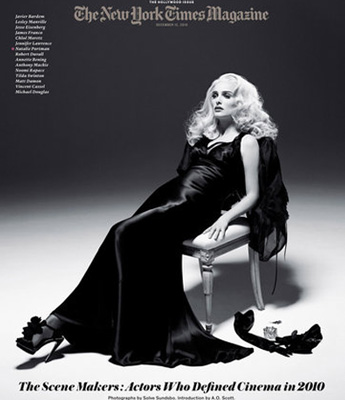 As if she wasn't busy enough with her Black Swan promotion, Natalie Portman's also been taking direction from Sofia Coppola on a series of pretty new Miss Dior Cherie fragrance commercials — we cannot WAIT to see these sure-to-be-beautiful images. She also just landed the cover of the newest New York Times Magazine and wears a platinum wig and Old Hollywood-style makeup.
With all the glamorous stuff she's been up to of late, you'd think Natalie would be a beauty fan, but apparently not so much. Speaking with Allure, she said that the only product she uses every day is cleansing milk, and she recently told WWD that "I'm pretty casual in my beauty routine in my real life. Some might say sloppy." Umm, if this is what sloppy looks like sign me up. We've seen her bald and brunette, but what do you think of Platinum Portman?