Neutrogena Light Therapy Mask Review
This Acne-Fighting Light Mask Is Lit (Literally)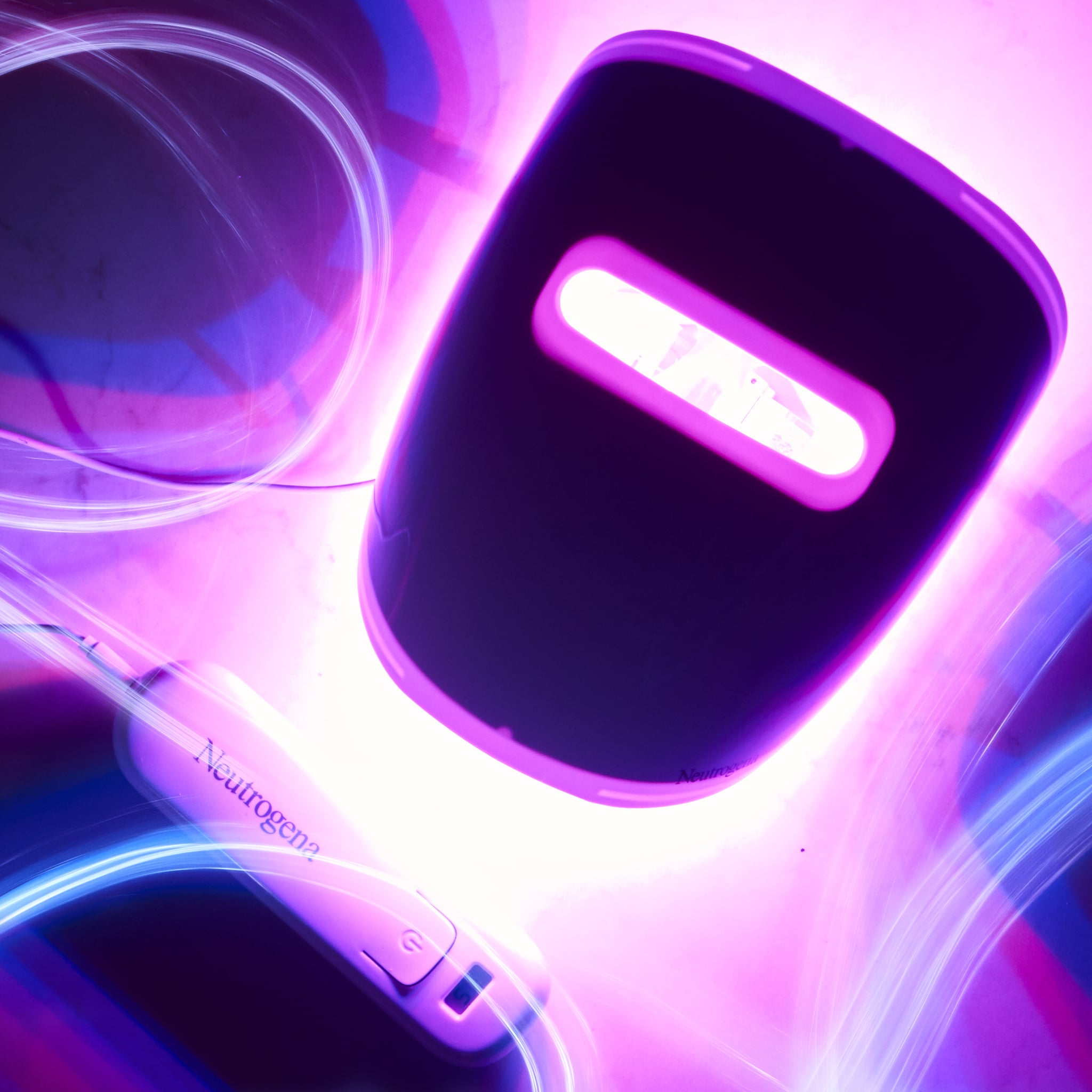 When it comes to treating acne, light therapy is the real deal. It's a tried and true formula, but normally only something few of us can access during an in-clinic treatment, often costing hundreds of dollars. Thanks to Neutrogena the future is now and you can access this technology at home. The best part: It's available at drugstores and it's affordable, coming in at $69.99. We're dubbing it Hannibal Lecter x Daft Punk chic. Welcome to the future folks.
As we know, acne is zero fun. In fact, it can be down right crippling, leaving even the most secure of us feeling, well, insecure. But imagine treating the acne you have now, while also preventing future breakouts.

Interesting fact: According to Neutrogena, the pimples you have now were formed under your skin six to eight weeks ago (but seriously, think about that for a moment). So for those of us who can't even figure out what we want to cook for dinner, trying to plan having good skin six to eight weeks in advance can be a real task.
This mask will help to prevent pimples before they reach the surface, meaning they will never see the light of day. Designed to attack your acne on all fronts, the mask emits a very cool purple-pink light (which we all know is very in vogue right now). This light is a combination of blue light (to reduce the presence of bacteria on the skin, which can prevent breakouts forming), and red light (to reduce inflammation in the skin to interrupt the breakout cycle).

You pop the mask on (using the built-in sunnies), and using the activator, which comes pre-loaded with 30 sessions, light it up. Before you panic, we grilled the brains at Neutrogena, and this treatment is completely safe. The activator switches off after 10 minutes, so you can't over-use it or accidentally cause damage to your skin. The experts agree that you're going to get the most out of this mask if you're consistent with your practice. But when a skincare product is this fun, this easy to use, and makes for a great Insta story, you'd be hard-pressed to find someone who didn't have 10 minutes a day to work this into their routine. With no prep or downtime, all you need is a freshly cleansed face to let the light therapy work its magic. Side note, do not stand in the dark waiting for your partner to come home with this on, it will not end well. Picture a Friday the 13th meets Back to the Future kind of moment.

So, pour yourself a glass of wine, and get lit. We'll be using the treatment for the next 30 days and reporting back, so stay tuned.

Neutrogena's Light Therapy Mask is available in Priceline Pharmacy, Chemist Warehouse and other selected retailers from September 1.


Now Watch: 4 Insanely Easy DIY Hair Masks for Anyone Who Loves Coconut Oil

Image Source: Courtesy of Neutrogena