New Men's Skincare Launches From Nivea For Men and Palmer's
Skincare Solutions For Guys Who are Tired, Hungover or Time-Poor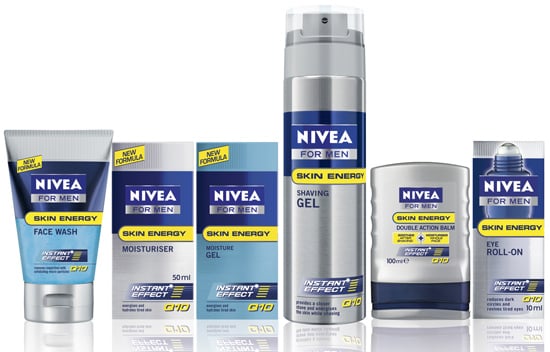 Guys often get the raw end of the deal when it comes to beauty grooming. They may not be complaining about the ratio between guys and girls' serums on offer at Priceline on a regular basis but one day their skin will be. Trust us. But two new releases from Nivea For Men and Palmer's Cocoa Butter Formula have just launched and are they're likely to tick both guys and girls' boxes. Easy-to-use, effective, nice-smelling and most of all non-threatening, even guys who don't like to moisturise will actually be keen. Get the lowdown on the new launches now.
The first range, Nivea For Men Skin Energy, is great for guys who have been burning the candle at both ends and whose skin is showing skins of fatigue: think dulling greyness and dry patches. Put simply, he'll look energised, fresh-faced and healthy even if he's been partying all night after using this. How? Well co-enzyme Q10 helps to provide the skin cells with long-term energy instantly reviving tired skin while creatine aids the skin's renewal process, getting rid of dull, lacklustre skin quicker. The 6-piece line features: a face wash, shaving gel, moisturiser with SPF, lightweight moisturising gel, a soothing post-shave balm and eye roll-on. Our picks: Nivea For Men Skin Energy Eye Roll On ($12.69) because puffy eyes and dark circles are the biggest tell-tale sign of tiredness and Nivea For Men Skin Energy Moisturiser ($13.87) because it's a lightweight moisturiser with UVA/UVB filters and sunscreen is non-negotiable.
The second product, Palmer's Cocoa Butter Formula Men Body & Face Lotion ($7.40), is more low-fi and good for guys that are time-poor or wary of using too many products. It's the first men's product to be launched by the cult brand and while the underlying smell of cocoa is still there, it's been updated to feature a more masculine scent. A fuss-free, one-stop-shop for guys, it can be used on the face and body to nourish and hydrate.
Stockists: Nivea For Men (1800 103 023); Palmer's (1300 191 918).