Nicole Kidman Beauty Interview 2017
5 Minutes With Nicole Kidman and an Obsession Is Born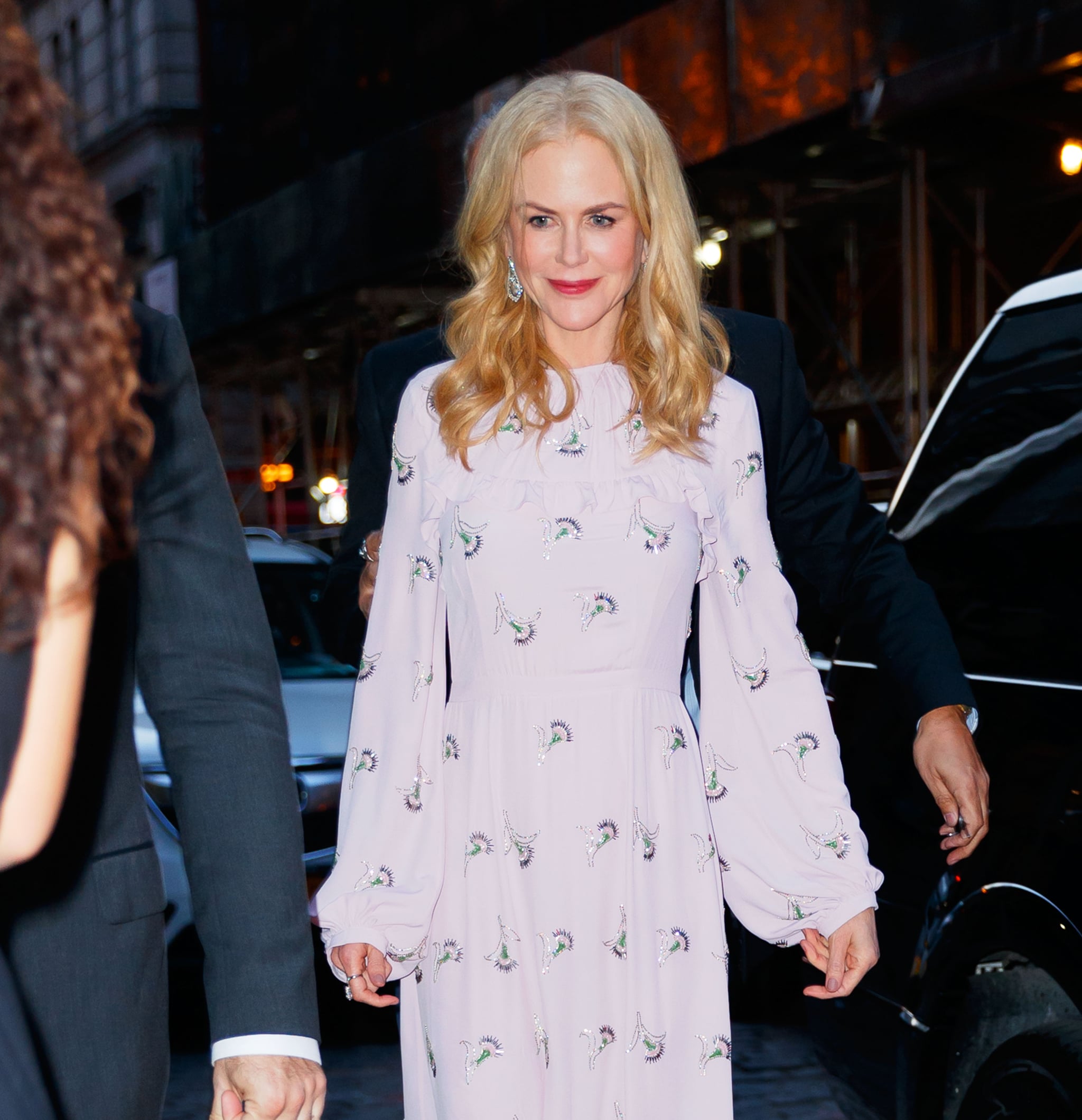 Nicole Kidman is a dream!
For context: Our chat with Nicole Kidman was slated for a weekend, time TBC. When an interview offer like this comes through you don't demand a date change and you definitely don't choose your weekend over NICOLE KIDMAN — weekend? What weekend? Nicole Kidman is going to call you on Saturday, you make sure you're available. But the day before the interview a message came through from her team, it read:
"Nicole didn't feel it was reasonable to ask you to get up so early on a Saturday! She is going to make time early next week for a call at a more reasonable hour – sorry to move it around but at least you can sleep in tomorrow now!"
In all my years, I have never. Did Nicole's people send this to make her look good and appease me? Surely not, Nicole is our Hawaiian-born Aussie, she'd naturally be that nice, and I wasn't even annoyed. Weight to my belief came when she picked up the phone and kindly apologised for any trouble the original date, and then changing it, caused — What. A. Sweet. Angel!
We spoke on the phone at a super convenient time, on an equally as convenient day, for five quick minutes about her skin, sunscreen, her '80s curls, and Kath and Kim (so, selfishly, all of my favourite things), and she was every bit the Emmy-award winning goddess I had pictured in my mind. Here's how it went down . . .
POPSUGAR Australia: Hey Nicole, it's so nice to speak to you. I feel like I know you — I've recently come out the other side of a Big Little Lies binge!
Nicole Kidman: Aww, it's so good to hear an Aussie accent! Oh, I'm sorry again it has been so hard to get organised, but I've been doing a film with Joel Edgerton and Russell Crowe — talking about Australians . . .
PS: No worries at all! Where in the world are you calling from right now?
NK: I'm in Nashville. That's where I am always. If I'm not in New York or LA I'm in Nashville.
PS: Nice! Well, I'll get straight to it. Firstly, I need to know your skincare routine, you always look so flawless . . .
NK: I'm low maintenance in the sense that I have just one or two things that I put on at night, but I'm really into sun protection — as can be seen from paparazzi photos where I walk around in a big hat and a rashie and my sunscreen [laughs] — that's why it was so natural for me to team up with Neutrogena, because its sunscreen is so fantastic for me, for the kids, for all of us. I think probably being an Aussie and having always grown up with the idea of having invisible zinc has also been a really good thing . . . I spent my childhood covered in white zinc. I use it every single day, whether it's sunny cloudy, Winter or Summer, but yeah, I have to use it every day.
I have my little girls and one of them has tanned skin and one of them is fair and I still have both of them use it, because these days it can save your life using it as well. I will use the regenerating cream at night and because that has some retinol in it, it can make you more sun-sensitive as well and so therefore I'll then use the SPF 100. I use the invisible zinc, if I'm going to work out or if I'm going to the beach or if I'm going to play tennis, also if I'm filming because it's really good for filming because obviously you can't reapply all the time and if I'm outside. I mean, people would say that I'm over the top, but I don't think I am [laughs].
PS: NO! That's so great. Sun-safety is important, especially for people concerned with ageing skin!
NK: If young people learn that early they'll have incredible skin later. A lot of my friends say, 'Gosh, I wish I used it earlier in my life.' I just had to because I had a mother that was really sun-conscious.
"I would always be told, 'Your curls are so beautiful' and I never believed them."
PS: If you could give 20-year-old Nicole beauty advice what would it be?
NK: I wish I had left my hair alone [laughs]! Because I kept straightening it I would always be told, 'Your curls are so beautiful' and I never believed them. Also I think if I just embraced my curl it probably would have stayed more, because now it's more just frizzy rather than ringlets — I now love the ringlets, I want the ringlets back and I only get them back when it's Summer in Australia and it's crazy humid, that's the only time they come back.
PS: Complete side note, but speaking of your hair, there was an episode of Kath and Kim on TV the other night where Kath and Kel dressed up as you and Keith, your curls feature heavily in Kath's costume . . .
NK: [Laughs] That's so bad! I'll have to Google it, that's terrible! [laughs] Is it hilarious?
"That's the problem growing up on camera you had every sort of incarnation of yourself captured in every instance. It's a bloody nightmare . . ."
PS: It's so funny!
NK: [Laughs] Oh God! That's the problem growing up on camera you had every sort of incarnation of yourself captured in every instance. It's a bloody nightmare, I'd have to say [laughs].
PS: Your curls were great! I can totally understand what you mean about wishing you'd left them alone.
NK: You can imagine being 15 and having those and getting teased so the first minute I could I was like of course I [got rid of them]. So that would be my advice, and my advice to any young girl is to leave your hair, please be natural, please leave your hair, embrace your curl because otherwise they will go. I remember Kate Fitzpatrick, who was an actress when I was growing up, she had curly hair and when I would straighten it she'd go, 'Don't do that to your hair, don't do that to your hair!' and I'd be like [gasp] but now I think back and I'm like, 'Gosh, she was right!'
PS: No doubt you spend a lot of time the makeup chair, do you have a preference for your hair and makeup?
NK: I can't be in the chair for more than 20-25 minutes so I'm like the speed dial of makeup, I'm like, 'Go! Quick! Fast!' because I don't like sitting, I'd rather be with my kids or I'd rather have a work out. I'm also trying to manage my time, and I don't know that many women who can sit around in a salon . . . everyone's trying to multitask these days so I'm always like, 'Quick, quick! Do my hair and makeup at the same time', but I'm also massively into hydration because I tend to have dry skin so I always put oils on, any oils I can get, I just love moisture and I love a good mask.
PS: So what's your go-to look for red carpet events?
NK: Less is more. Whenever I've worn really heavy makeup I've always regretted it. I always think people look better with less makeup. I love dewy skin, it's hard to do it but when you just emphasise lashes . . . oh, and I love red lips. When in doubt have a red lip!