Nicole Richie Purple Hair Instagram Picture
Nicole Richie Dyed Her Hair Lavender — Do You Love It?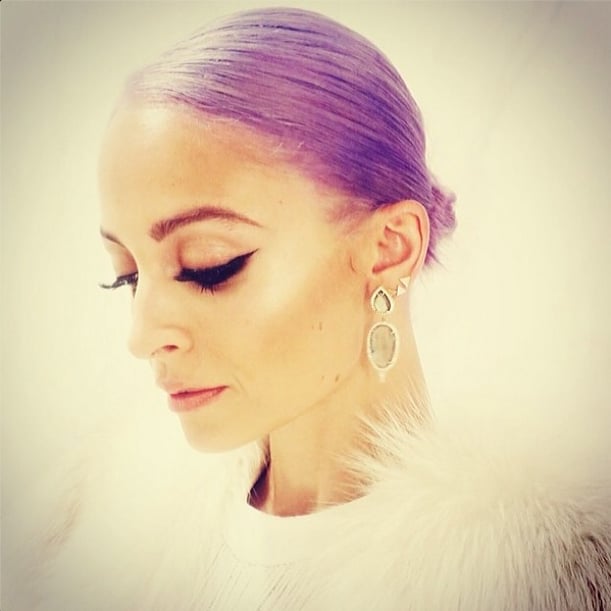 After Nicole Richie teased us with a photoshopped photo of her with lavender hair, we've been hoping she'd pull the trigger and go purple. And that she has, revealing on Instagram that she has officially dyed her blonde locks a luscious shade of pastel purple. She showed off the new colour wearing her mane in a slicked-back bun with brown eyebrows and thick black eyeliner and lashes. The hue looks absolutely gorgeous and high fashion on her.
"Anyone who is fashion forward [can wear purple hair]," says Matrix celebrity hairstylist George Papanikolas, who did not do her colour but has tips for those who want to try it. "Considering purple hair doesn't happen in nature, you don't need to be too concerned with your skin tone, but you will need to adjust your makeup. Too much and you can start to look like a clown. Nicole tends to keep her makeup natural, which is a nice combination." He adds, "The upkeep is a full-time job. The roots need retouching every few weeks and the pastel toner every few days, otherwise it turns into an uneven platinum blonde."
We definitely don't want to discourage anyone from taking on an Easter egg shade this season — just make sure you're prepared for the maintenance. Or you can try temporary hair colour, like Colour Xtreme Hair Art Purple Spray ($7.99).
But before we all go out and go purple, we want to know: do you like Nicole's new look?
Source: Instagram user nicolerichie