Olympic Silver Medalist Emily Seebohm on Olympics Beauty Prep and More
Congratulations Emily Seebohm! Read Our Exclusive Chat About Her Olympics Beauty Prep & More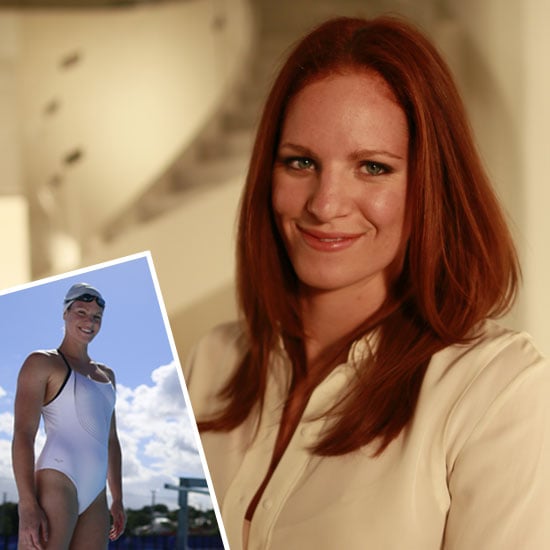 To celebrate Emily Seebohm's silver medal win at the London Olympics last night, we're taking a look back at our recent interview with the Australian swimming champion.
Emily took time out of her hectic training schedule ahead of the London Olympics to chat to us about landing a place on the Australian team after she secured her spot in the squad by coming first in the 100m backstroke at the National Championships. When asked how it compares to her new role as a Pantene ambassador, 19-year-old Emily said: "They are both very different and both very exciting!" Here she gives us an exclusive insight into her world, talking beauty icons, biggest blunders and even spills on the grooming habits of the guys on the squad.
Firstly, congratulations on making the team! How did you feel when you won your final and knew that you'd be going to London? I was very excited and happy to be on the team and going to be going to my second Olympics!
How did you first get into swimming? My mum taught me how to swim when I was a baby and at first, I never really liked it. I won my first big age group gold at 12 and from then on have been on Australian age and open teams.
What's a typical week like for you? A typical week is nine training sessions as well as four gym sessions, two physio [appointments] and one massage. It hasn't really changed much since our trials; keeping it the same is always best.
You obviously put your skin and hair through a lot with all of your training in the pool — how do you care for both? Making sure I look after them is really important! So a good shampoo and conditioner and hair treatment is always good, and then making sure I put some moisturiser on my face to keep it from being too dry.
What tricks have you picked up from your teammates on how to care for your hair and skin when in and out of the pool? We don't really talk about what we do but we are always borrowing each others products!
Do you have any pre-swim rituals that you always do? I always put my cap on from back to front.
Do you wear any beauty products when you're racing? I usually wear a tinted moisturiser on my face and then I think to wear nail polish as well.
Do you love the opportunity to get glammed up? Of course, it's one of my favourite things to do but then again what girl doesn't!
What are your favourite hair and makeup looks to wear when you're not swimming? I love curly, wavy hair with bright lips.
What do you do in your downtime to relax? I like to watch movies; I'm a big movie person!
What will you be packing in your case to the Olympics? A lot of Pantene to keep my hair looking good, lots of moisturiser and nail polish.
Are there any British beauty brands that you're keen to check out whilst over in London? (We recommend a trip to Boots!) I love beauty products so that is something I can't wait to check out!
What's the best bit of beauty advice that your mum has shared with you? Making sure if you are comfortable because that will make you feel the best.
What's the biggest beauty blunder you've ever made? Doing the wrong coloured lip.
What beauty look would you love to try out? Old Hollywood glamour!
Do the boys on the team take care of their hair and skin as much as the girls? No way!
Who is your beauty icon? Blake Lively. She is gorgeous and always knows what works for her.
Images courtesy of Pantene