The Ordinary Launches Colour Foundations
The Ordinary Is Launching Another Product Your Face (And Wallet) Will Love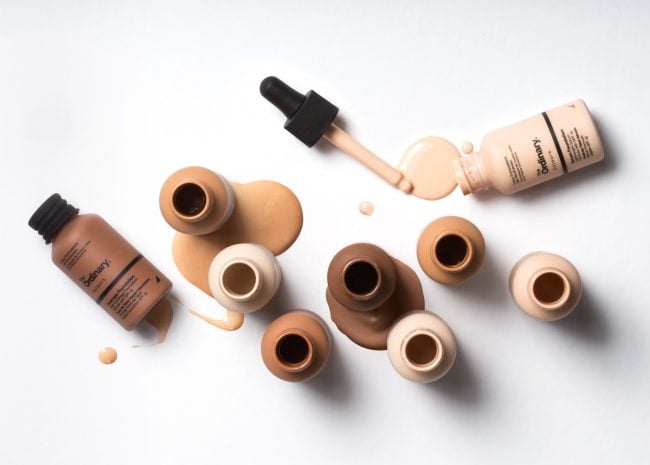 Deciem is not a normal beauty company. In fact, it proudly claims it is abnormal. But it shouldn't be viewed as strange or peculiar; its abnormality makes it extraordinary, exceptional and wonderfully unorthodox.
Its skincare brand The Ordinary alone has shaken up the beauty industry with its pared-back skincare products that contain clinically-proven ingredients without the standard hefty price tag.
Looking for a two percent retinol serum for less than $20? Ha! That surely doesn't exist, right? Well, The Ordinary has one. It's called Advanced Retinoid 2%, and it'll set you back a mere $17.90. The brand also has a vitamin C serum for a teeny tiny $9.80, making a bright, glowing complexion achievable no matter how empty your purse may be.
But we're not here to talk skincare. We're here to talk foundations; super-affordable foundations that will hopefully be arriving on Australian shores rather promptly.
Introducing: Colours by The Ordinary. The product may be somewhat ordinary by name, but its formula is anything but.
Its two variants — Coverage Foundation (thicker! non-greasy!) and Serum Foundation (lightweight! glowy!) — contain high colour pigment levels to create a natural finish on the skin while still minimising pesky concerns like redness, blemishes and pigmentation. The formulas also contain a physical sunscreen of SPF 15, meaning no chemical sunscreens or nano particles were included in the making of these foundations. Love.
The two foundations and their adorable dropper applicators are also available in 21 shades, which is a win for our diverse world of varying skin tones. So whether you've got really fair or dark skin, The Ordinary has you covered.
Now that we know the product formulation lives up to its innovative skincare counterparts, let's talk price. Is Colours as kind to our wallets as The Ordinary's facial care products? Yes, yes it is.
Having just launched in the UK for less than $9, its safe to say you'll pocket a decent amount of change from a $20 note when it arrives here in Australia. Incredible, huh? But that's not all.
Deciem also posted a cryptic message on Instagram stating that Colours is just the first product in an evolving range of colour formulations created by The Ordinary. Watch this space . . .
Image Source: The Ordinary