Pictures of Cynthia Rowley Beauty 2013 Fall NYFW
2013 Fall NYFW: Cynthia Rowley Shows You How to Nail the Bold Lip For Fall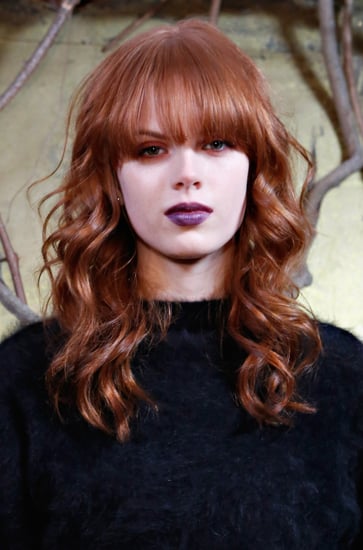 Cynthia Rowley went for a little dark romance for her Fall 2013 collection, which translated to a pretty and wearable look featuring a bold dark lip to match the nails, all courtesy of Beauty.com. We loved how the matte texture showed up on the lips and nails.
The look: A dark purple lip with soft curls.
The inspiration: Urban romance.
Trends: Playing with texture in the hair, makeup, and lips.
Keep reading . . .
Hair:
Esther Langham for Alterna brought out the softness in the rather dark look with dry-textured curls. She applied the brand's 48-Hour Volume Spray to wet hair and rough blow-dried. Next, she made a crisp middle part and curled thick sections of hair using a 1 1/4-inch curling iron. She made sure to leave the ends out, so the curls weren't too precious. Once the curls were set, she went through them with a wide-tooth comb and finished them off with a little dry shampoo for a matte texture.
Makeup:
The makeup brought out the darker side with a rusty-shadowed eye and a deep purple lip. Romy Soleimani for Beauty.com mixed the Joanna Vargas Rejuvenating Serum with Stila Pigalle and Fine Eye Shadows to give the makeup a lived-in quality. The focus was the deep plum lip, which was created using Stila's Gemma Color Balm all over the lips, and then topped off with Improvise and Glance Eye Shadows to deepen the colour and add a matte finish.

Nails:
Deborah Lippmann created the complementing manicure: a super-deep plum finished with a matte top coat. She used Dark Side of the Moon topped off with Flat Top to bring to life the dark-textured manicure — definitely a huge trend for Fall.