Pictures of Karen Walker Beauty 2013 Fall NYFW
2013 Fall NYFW: Karen Walker Re-Envisions '90s Grunge With a Bold Eye For Fall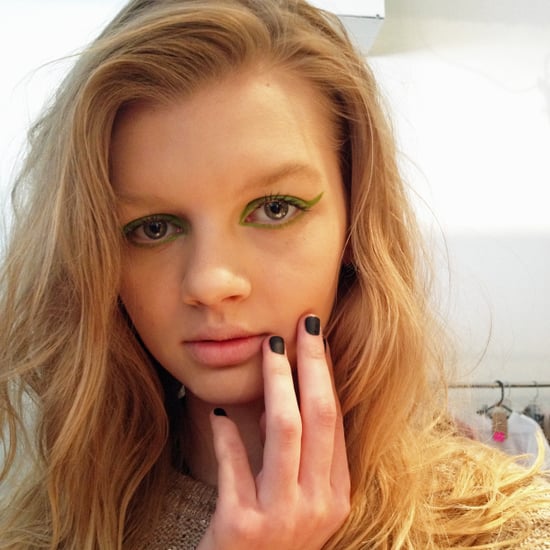 We're seeing lots of graphic eyeliner this season, and the models at Karen Walker's Fall 2013 show had big, bold, and colourful winged eye makeup. The vibrant eyes were paired with a grunge-inspired hairstyle and black matte nails.

The look: Bright makeup with tousled hair and low ponytails.
The inspiration: Siouxsie Sioux.
Colour scheme: The green and orange eye makeup was inspired by shoes from the collection.
Keep reading . . . Makeup:
Lead makeup artist Benjamin Puckey for Mac Cosmetics drew upon Siouxsie Sioux of the English punk rock band Siouxsie and the Banshees for inspiration for the vibrant eye makeup. The orange and green liners were created using Mac Cosmetics pigments and were painted on the lids using a fine lining brush. Brows were bleached with hydrogen peroxide, and the face was kept bare with a little foundation to make the colour on the eyes really stand out.
Hair:
Of the textured hair, lead stylist Laurent Philippon for Bumble and Bumble explained, "What we're doing is a little bit of a grunge revival." All the girls had their hair diffused to bring out their natural texture, and then their strands were set in loose braids to hold the look until they went out on the runway. He layered Bumble and Bumble's Prep and Surf Spray to get the natural-looking texture.
Nails:
Nail artist Joaney Black for OPI created the punk-rock-esque manicure. She started off with Black Onyx and finished with a matte top coat for the ultimate in cool-girl style.