Poppy King Talks Makeup Memories, New Challenges and Lip Reading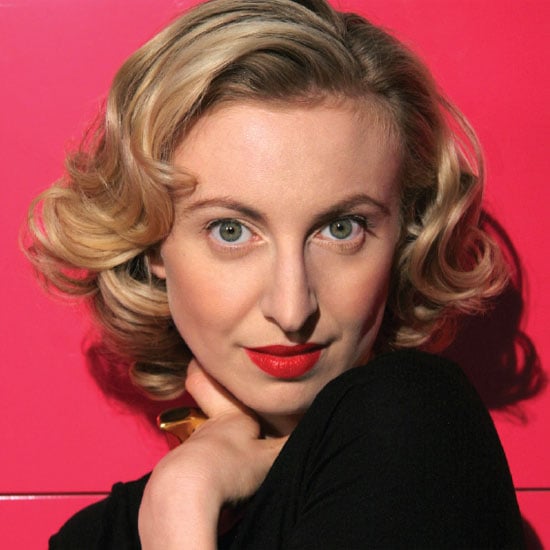 Poppy King's Seven Deadly Sins range of matte lipsticks put her on the beauty map when she was just 18. Since then King's career has been a roller-coaster ride with the Melbourne-born entrepreneur being named Young Australian of the Year in 1995 but the business sadly going into receivership in 1998. Bouncing back via a role at Prescriptives, King re-entered the beauty biz in 2006 with her follow-up brand, Lipstick Queen, launching here in 2008. Since it's gone from strength to strength with collaborations with J.Crew, Kate Spade and UK beauty giant Boots. We caught up with NYC-based King ahead of her new lipstick launch to talk red pouts, her talent for reading people's emotions based on how they hold their lips and what's next in the pipeline.

You got into the beauty industry at a young age; what's your earliest memory of makeup? Probably my earliest memory was, I think about seven years old, and I was playing dress up with my mum's lipsticks and I was just totally mesmerised by how lipstick made you feel. It made me feel like a kind of superhero. So that was really where my fascination with lipsticks started.
Who are your beauty icons? I don't really have any beauty icons. I mean, I guess I'm drawn towards the movie stars of other eras because that was before there was so much plastic surgery. So I think movie stars in the '40s and in the '50s were so much more diverse so I'm drawn more towards '20s, '30s and '40s style of femininity. For me to really consider someone a beauty icon, I have to know them. It's not enough just to see them. Because beauty is definitely a whole package.
Why did you decide to focus on lipstick specifically? Just because I don't like the way other brands do lipstick. When I finished high school, I didn't plan on going into a business, certainly not really a beauty business — I'm not really that interested in makeup as a whole, just lipstick — but I didn't like, and I still don't like, the textures of the lipsticks that are out there, the colours. I find that most brands do lipstick as part of their overall offering so it's not really given the attention to detail [that it needs]. I like lipstick that is very, very simple without all the fancy additives and all that. Just really great colours instead of a whole lot of colours.
What inspires you? I've draw inspiration from art, film, culture and different places in the world. I'm not a makeup artist so I don't do it from the point of view of the catwalk and I'm not a big believer that that really is the best place for inspiration for beauty because what's done on the catwalk is for a catwalk. For example with Butterfly Ball, my inspiration was to recreate the look of a butterfly wing. It has a kind of blue iridescence so when it's on the lips you don't see it but it just has this blue flash like a butterfly wing. This latest product, Liptropolis, which hits stores on July 30, the inspiration is about NYC and the different shades that represent New York.
You're famous for your red lipstick, what's your go-to shade? The one that is my habitual go-to is Red Sinner which is full pigment. I kind of need that otherwise I look a little washed out. For me it's the equivalent of nude!
Red can be tricky to pull off, what's your advice for wearing it well? The key to wearing red is not wearing much other makeup with it. So doing it in a very minimalist way. I think most women who are intimated by red lipstick are more intimidated not so much by the red lipstick, as by the idea of a lot makeup. If you wear less makeup then it looks really fresh and really easy to wear. Red lipstick is best when it's just used very casually.
How about shade selection? The general guidelines are, the paler your skin and your hair colouring, the more orangey-reds look best. The deeper your skin and the deeper your hair colouring, then it's the more pinky-reds. Obviously there are exceptions but it really comes down to what you feel good in.
And if they're still daunted? Try Medieval Tinted Treatment. This is an entry level lipstick. It enhances the natural red in your lip and it's also a vitamin E base so it doesn't have any of the feeling of regular lipstick. It basically feels like a lip balm with a little bit of red in it to make your lips naturally have a redder appearance without wearing lipstick. It's a great place to start. And what starts to happen is when you start using lipstick you find your feet.
Which star would you most like to see rock a red lip? I'd love to see Jennifer Aniston in a red. I think she's a gorgeous girl and she seems like a very nice person and I would just be so curious to see what she would look like with a really healthy red lip and maybe her hair tied back. I don't think I've ever seen her in a film or the whole time of Friends and I just would love to see [it]!
I've heard that you read lips? Yes. I just think over the 20 years that I've been focusing on lipsticks, and therefore on women's lips, and I must have served in that time over 10,000, maybe even 15,000 customers, I don't know, just noticing the way women hold their lips — it's not the size or the shapes — you can really see what frame of mind [they're in]. It's more that I'm looking at the corners. (FYI, because mine go up very quickly at the corners, Poppy said I'm a fundamentally happy person, quite adventurous, willing to try new things, can be a bit of a risk-taker but ultimately has a big heart.)
You're launched your own line, worked for Prescriptives, collaborated with J.Crew and Kate Spade, and written a book; what's been your favourite experience so far? I love every opportunity I've had but probably my favourite would be my very original, the Seven Deadly Sins, because that was me connected to my most honest truth in terms of not knowing how to do it but just doing it because I believed in it. Unfortunately sometimes the older you get and the more you actually know about an area, sometimes you just see all the problems whereas all I saw then was a solution.
Are you tempted to do any Aussie collaborations? Well because of my life in America, and I spend a lot of time in London [it's not always possible] and I think also Australians have a totally different perspective of me. For Australia I think it's much more glamorous for them to get someone who's not Australian. In the States I'm considered the ultimate expert in lips whereas I think in Australia, because they watched me grow up here, I'm not exotic here [laughs] whereas I'm exotic over there!
What's next for Poppy King? I absolutely adore working with Kate Spade and I've signed on to do a lot more with them now. They're my dream collaboration, it's a wonderful brand [with a] great heritage and it's been so successful. We've just really enjoyed working together so I'm very happy to be doing that. And I'm also at present looking to launch a new brand of my own next year but it's not in makeup so you'll have to watch this space.
Complete these sentences:
Lipstick is . . . the ability to totally transform your mood.
Lipstick should not . . . be intimidating.
You should always . . . know that you have more inner-power than you think.
I wish I'd never . . . done most of my hairstyles in the '80s!
Life is . . . a wonderful, strange, challenging journey.
Lipstick Queen Limited Edition Liptropolis ($69.95) will be available from July 30. Stockists: 1800 705 800.