Product Review of Dermalogica Skin Perfect Primer SPF30
Bella Review: Dermalogica Skin Perfect Primer SPF30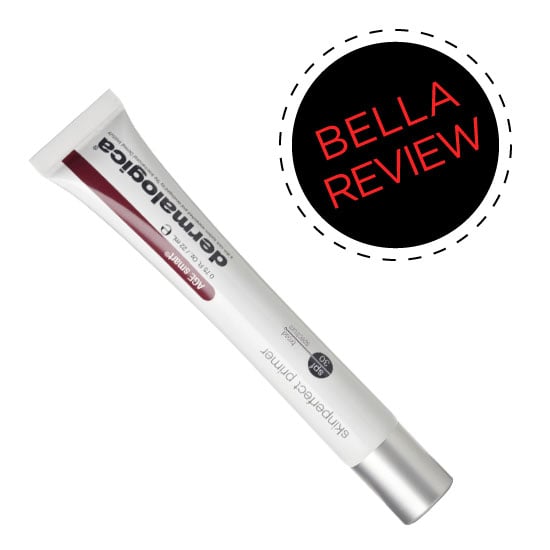 I'm a long-time Dermalogica fan (their Special Cleansing Gel got me through that horrible teenage acne stage) so it's a brand that I know I can trust with my now mid-to-late-twenties (can't believe I just typed that) skin. As you may or may not know, I suffer from mild adult hormonal acne, so I'm really conscious of using new skincare products on my face.
I've been testing the new Dermalogica Skin Perfect Primer SPF30 ($79) for about a month now — and it hasn't been the cause of any breakouts. In fact, quite the opposite. It seems to have soothed and calmed my problem areas. It's a primer in every sense of the word, but it also has the very fantastic SPF30 included, which is just a no-brainer these days. You need protection this high, every day!
A primer's job is to even out the skin and create a canvas of sorts before makeup application, and I've found my makeup stays all day with Dermalogica's primer offering. The silica fills in my fine lines (shudder), and the added pearl powder and soy protein even out my skin tone. I have a bit of scarring so I've found it to be especially good on the healing side of things...
Bella beauty stars: 5/5
Product in a nutshell: A primer that acts as skincare as well as prep for longer-lasting makeup.
Who should use it: Anyone who is looking for a primer but is very particular about what they use on their skin. This product is like a daily treatment, so it is especially good for those who suffer breakouts.
Why we love it: The pre-makeup benefits aside, this primer also includes a mix of antioxidants like white tea, peptides and sodium hyaluronate to protect the skin and replenish hydration levels.
Available: September 1
Stockists: Dermalogica