Product Review Sodashi Toxicleanse Body Oil
Product Review: Sodashi Toxicleanse Body Oil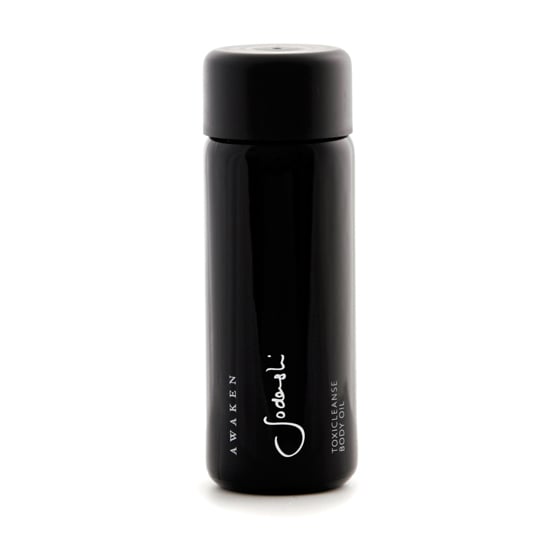 The change of seasons can wreak havoc on your skin — from the harsh, dry winds of Winter to the heavy, humid airs of Summer, it's little wonder our body takes a while to catch up and adjust to the conditions. If you suffer from dry skin, you'll know that it's not a cold weather-specific problem. For some of us, it happens year-round, and it requires some extra TLC to eliminate the issue. That's where Sodashi Toxicleanse Body Oil ($53.90) comes in. We've been on the oils bandwagon for a while now, but as with anything, there are certain ones that absolutely demand your lifelong loyalty. This oil is one of them.
Infused with cedarwood, juniper berry, geranium and grapefruit, it's got the kind of smell you can only seem to find in an expensive day spa. You know the one? It's refreshing and light, but also makes you wish you were getting a beachside massage on a tropical island somewhere. The oil itself is thick and golden — not so runny that you can't control it upon pouring, and not so thick that it's sticky — and it coats your skin beautifully. It sinks in quickly and the glow left behind is gorgeous, but we suggest using the oil sparingly if you're heading out.
We recently found out that Phoebe Tonkin likes to slather herself in oil before she hops into bed — we tried the same and after a few days of regular use, our skin is noticeably softer and smoother. Dry patches on our arms are completely gone, and rough feet have been replaced by much softer ones. It makes sense — oil is moisturising in any capacity. But when the oil also increases circulation and eliminates toxins, smells heavenly, can be used sparingly and is housed in a beautiful dark glass bottle, you know you're onto a good thing.