Review Diorshow Iconic Overcurl & Giorgio Armani Maestro
Bella Review: Two Products We're Obsessed With Right Now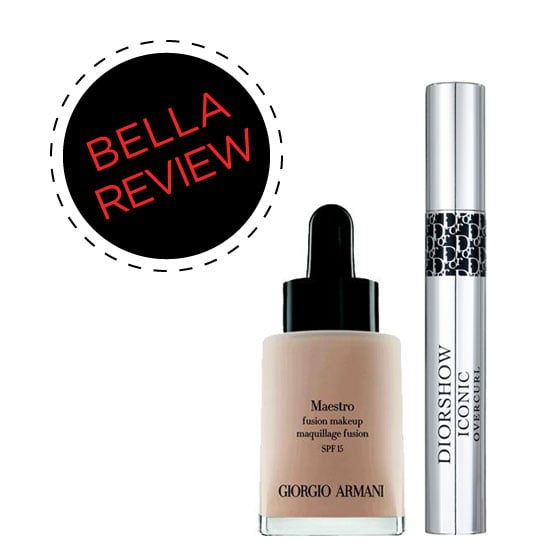 If you're in the market for a new foundation, try this one over the counter at David Jones. Our fashion editor has been loyal to one or two particular foundation brands for years now, but she wanted to try something new. Cue the sibling to Giorgio Armani's famous Luminous Silk Foundation, Maestro. The product uses the patented Fusion Technology &— which basically means only a thin film of liquid is needed to match your complexion. To see her review and more, keep reading . . .
Giorgio Armani Maestro Foundation, $59
"This is not usually the sort of formulation that I would naturally wear – I'm a fan of a dewy glow – but I have to say I was pleasantly surprised by the smooth, satin finish. The consistency is lovely – really slippery which make application easy. It slides on like a dream, and I was able to build coverage in areas that needed a little more love. The eye-dropper applicator is nifty, but I found I was just using the stick section to get the foundation on my hands. It's not thick or gluggy, and the slightly powdery finish does give a very polished, even sort of coverage. I'd say it's perfect for when you want to feel 'done', grown-up and flawless." — Ali, FabSugar editor
When it comes to mascara, you just have to love a product that gives thick, doll-like lashes. We obsessed over YSL's Shocking, and now we're raving about Dior's soon-to-be-released Diorshow Iconic Overcurl Mascara. Available from January 28, here's what our beauty editor had to say . . .
Dior Diorshow Iconic Overcurl Mascara, $52
"The brush head is key to this mascara's excellent performance. The curl is really handy for creating shape in the lashes — and even more so when paired with eyelash curling. It's not thin so forget building lashes with this mascara, it's all about instant, high volume. I apply my mascara while looking down at a mirror and this technique worked a treat with the bended brush head. You'll love it." — Alison, BellaSugar editor
Giorgio Armani and Dior stockists: 13 33 57