Review L'Oreal Paris Anti Redness CC Cream and Buy CC Cream
Bella Review: L'Oréal Paris Anti-Redness CC Cream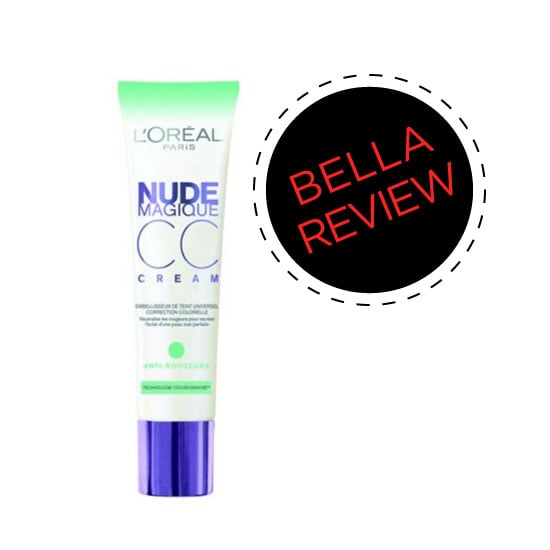 The year 2012 was all about the beauty/blemish balm — BB cream — and now, we're going porcelain skin crazy for CC cream. A little while back we explained the difference between BB and CC cream, and one of the first cabs off the rank with an Aussie release is L'Oréal Paris. Their Nude Magique BB Cream was a huge hit internationally, and in keeping in-line with the winning formula, the L'Oréal Paris Anti-Redness CC Cream ($26.95) is just as good. To see my review, keep reading.
It comes out green (quelle horreur!), but we know green is good for covering redness, and that's the aim of the game with a CC cream. Its purpose is colour control, so if you suffer from redness and rosacea, this is the miracle all-in-one for you. (I know, very confusing.) When you blend the cream, it will begin to adapt to the colour of your skin — like magic, or should we say, Magique.
I usually wear mineral makeup so I'm a big fan of light but effective coverage, and I felt really comfortable wearing this cream. I have large pores and oily skin so makeup tends to jump off my face, but after nine hours, it was still sitting pretty. I used the L'Oréal Paris Nude Magique BB Powder ($26.95) on my t-zone before leaving the house at 6am, and I didn't need to touch-up during the day. Fans of the Nude Magique BB Cream will know this joyous feeling well.
The other thing to note about both the Anti-Redness CC Cream and the Nude Magique BB Cream is the liquid consistency. Both products are really runny, so you need to be cautious when squeezing the tube. A little spreads a very long way. Officially available next month in selected chemists, department stores and supermarkets.
L'Oréal Paris stockists: 1300 659 359