Rihanna's Fenty Beauty Makeup How To
Every Fenty Beauty Product Responsible For Rihanna's Insane Glow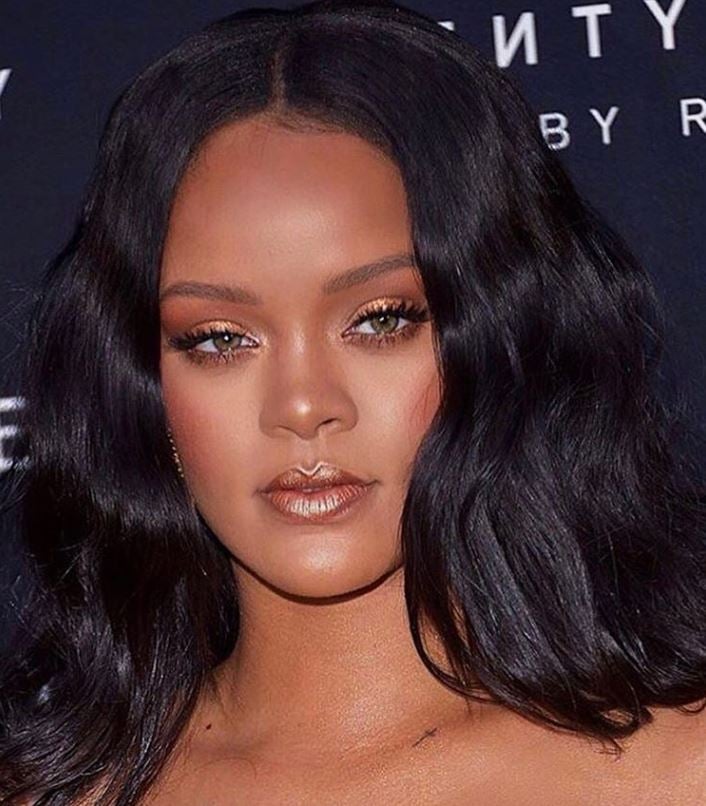 It's hard to take your eyes off Rihanna when she hits any red carpet. Everything about her is effortlessly cool mixed with a little IDGAF and a whole lot of smarts. Multi-award-winning singing career aside, she has paved the way for inclusive beauty, sending a wave of change through the industry, as she makes makeup accessible for womankind . . . but enough about how obsessed we are with her (for a sec). Recently, Rihanna walked the red carpet for her Fenty Beauty Italy launch, in Milan and naturally all eyes were on her. Not just because she's 100 percent the brains behind the super-successful brand but because her makeup on the night was a thing absolute wonder.
Thankfully, Priscilla Ono, Fenty Beauty by Rihanna's global makeup artist shared her techniques to getting Rihanna's exact look, so we can attempt to replicate it on our very own.
Step 3: For subtle concealing where needed, gently swipe light layers of Match Stix Matte Skinstick (Peach was used for Ri-Ri) onto the skin.
Step 4: Opt for a Match Stix colour a few shades deeper than your complexion to contour and define your face. Priscilla used Mocha on Rihanna, FYI.
Step 5: Layer Match Stix Shimmer Skinstick in Yacht Life on the apples of your cheeks for a subtle, rosy glow. To achieve Rihanna's radiant highlight, Priscilla applied Match Stix Shimmer Skinstick in Rum in light, translucent layers on the high points of the face and apples of the cheek.
Step 6: To define the eyes, apply Match Stix Matte Skinstick in Mocha and Espresso on the crease and layer Match Stix Shimmer Skinstick in Rum and Blonde onto the lid and waterline for further definition.
On that note, BRB, heading to Sephora to shop Fenty Beauty.