Rihanna Makeup Tutorial
How-To: Rihanna's Fashion-Forward Holiday Look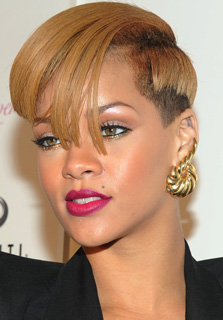 Rihanna arrived at the VEVO launch event looking stunning as usual.
While I'm still a little undecided about the hair, I'm completely taken with Rihanna's festive gold sparkly shadow and bold cranberry lip (tres festive RiRi).  The look is flattering on almost anybody with neutral or warm undertones, and it's modern without losing its fun factor.
Eyes:
Start by lining your upper and lower rims in black, try Napoleon Perdis Cake Eyeliner #79 Black ($25). Then sweep a taupe shadow, like Bobbi Brown Eye Shadow in Taupe ($44), from lashline to crease.
Apply Bobbi Brown Long-Wear Cream Shadow in Sandy Gold ($50) under your lower lashline. Then draw a straight line across your upper lashline using black eyeliner. Keep reading . . .
Use your blush (see my suggestion below) as a brow highlighter, sweeping it lightly from the crease to your brow bone. Finish with a few coats of black mascara on your upper lashes.
Lips and cheeks:
Use the same blush you used on your brows on the apples of your cheeks. NARS The Multiple in South Beach ($89) is a good one for this look, since you need something peachy with shimmer.
Line your outer lips with DuWop Reverse Lip Liner ($45) to prevent feathering and then follow over with a bright cranberry lipstick, like MAC Lipstick in New York Apple ($35).
Stockists: Bobbi Brown (1800 061 326)