This Season's Must-Have Eyebrow Shape
The Right Now Brow: Boyish & Straight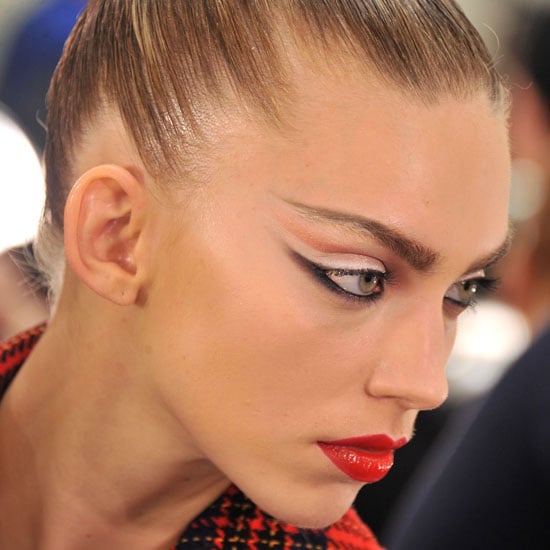 Ask any beauty editor or makeup artist about the importance of good eyebrows and I can guarantee you they'll all say the same thing: have them professionally shaped at least once in your life, but preferably every few months. If your brow expert is good at what they do (notice my choice of words here — a brow expert is different from a beautician because they specialise in brows), you'll only need to see them every two or three months for a quick shape and possibly trim. It all depends on the length and thickness of your eyebrows. Anyway, I'm getting off track here...
Last night I was lucky enough to meet two of MAC's leading makeup artists — Nicole Thompson and Ocea Ferber — who spoke about MAC's Fall '12 makeup stories and shed some light on this season's must-have brow along the way. Curious? Keep reading after the break.
The boy brow
Reminiscent of the brows we saw at 2012 Fall New York fashion week from Zac Posen (above), Donna Karan and Alexander McQueen (below) earlier this year, the boy brow is strong and straight, but light in colour. This look is all about the return of the thick brow, so kick that high arch to the curb, ladies.
The shape
It is a commitment brow, one that will probably require the dreaded "growing out" phase, but it will be worth it, I promise. This can take up to six months (it took me four), but remember brow pencils, powder and shaping tools are your friend in this time — it's all about lightly filling in the gaps. Try Kevyn Aucoin Precision Brow Pencil ($39), it changed my life.
The colour
Nicole and Ocea demonstrated how to lighten the colour of the brow to fit in with this season's brow look: Push concealer into the hair and comb the brows the opposite way, then finish by brushing slightly upwards. This softens the brow and gives it a look of innocence. Because brows have a personality too, you know.