Secrets to Jennifer Aniston Skin and Makeup Looks
The Secrets to Jennifer Aniston's Glowing Complexion Revealed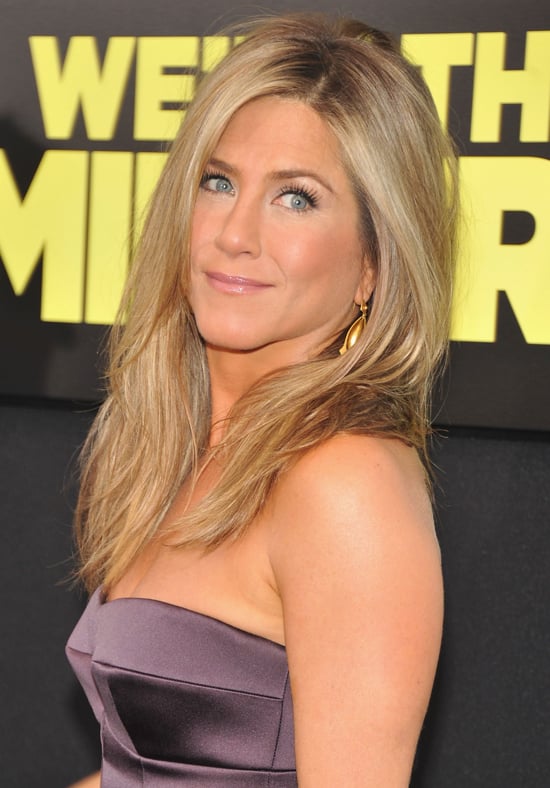 At the We're the Millers premiere in New York City, Jennifer Aniston strayed from her usual uniform of a strappy black cocktail dress, but she kept her signature glowy makeup look intact. Clad in a purple satin Burberry dress, the Aveeno global brand ambassador lit up the red carpet in a natural makeup palette. Get all the details on re-creating the luminous look below.
Complexion
"We were going to have a long day with red carpet moments outdoors in a hot and humid New York City, so I wanted an oil-free moisturiser that hydrates and is lightweight," said Chanel celebrity makeup artist Angela Levin. That's why she reached for Aveeno Positively Radiant Daily Moisturiser SPF 15 ($19), using her fingers to massage the cream onto Jennifer's face and neck. Once Angels Makeup Collagen Treatment Pads were set under the eyes, Levin dabbed Young Blood's Mineral Primer ($67.96) on with a sponge, followed by Face Picture Perfect Foundation in O and J with a foundation brush.
Eyes
After priming with Edward Bess Illuminating Eyeshadow Base, Levin used various colours in Chanel's Quadra Eyeshadow in Spices to accentuate Jennifer's eye. The lightest colour was applied directly under the brow to give a lifting effect, while the gold tone was added to the lid to brighten. "In the crease, I applied the dark mauve colour in a half-moon shape in the centre above the eyeball; this helps give a round, open look to the eyes," Levin explained.
She next lined Jennifer's eyes with Chanel Luminous Eyeshadow in Ebloui, removed the treatment pads, and applied Aveeno Positively Ageless Lifting & Firming Eye Cream ($20) and La Mer Concealer in Dark ($140).
Cheeks and Lips
"With a small round brush, I applied Chanel Cream Blush in Révélation. It's the perfect natural, sun-kissed colour," said Levin. A few swipes of Edward Bess Defining Lip Liner in Natural on the lips brought it all together for a flattering beat-the-heat finish.
Chanel 1300 242 635