Tatcha Beauty Founder Vicky Tsai
The Powerful Reason Tatcha Beauty Was Created Will Inspire You to Change Your Life
This feature is dedicated to our #NoChangeNoFuture initiative. From the Women's March, to Australia voting yes to same sex marriage, and the #MeToo movement, 2017 taught us to look beyond ourselves and come together as a collective of powerful women who are writing our own history. Join us as we cancel setting one-dimensional personal resolutions this January and commit to being the change we want to see. Because without change, there is no future.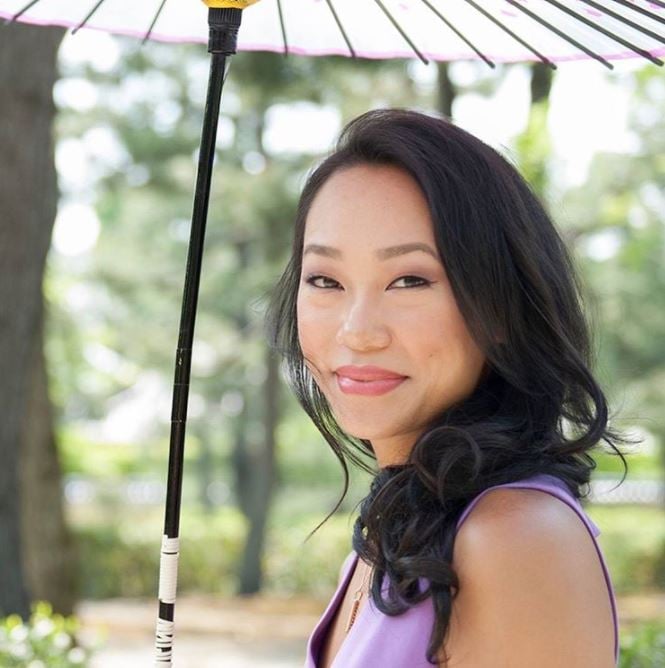 People often ask me why I started Tatcha. Had I always wanted to be an entrepreneur? Did I see an opportunity in the market? The truth is, Tatcha was born out of personal necessity. I never imagined that I would create a skincare company.
Part of that necessity came from my skin: I had acute dermatitis for three years, with bleeding, blistering, cracking and peeling even on my lips and eyelids, and I was in search of something that could give me my skin back. The other part came from my soul. I had spent a decade working for big corporations, and realised I was deeply unhappy. I had lost a sense of wonder and joy. I yearned for simplicity and authenticity in my life.
When I traveled to Japan, I found myself healed in the truest sense of the word. The beautiful ingredients and timeless rituals I was introduced to calmed my skin; the kindness and mindfulness of the people nourished my soul. Creating Tatcha was my attempt to bring a small piece of Japan home with me — I often call it my love song to Kyoto.
When I found the gold-leaf beating papers that would become the first piece in our collection, work began in earnest. The papers, a sheet of 100 percent abaca leaf that were originally used to protect gold sheets, are one of the geisha's original beauty products, used to lift away excess oil without disturbing makeup or stealing moisture from the skin. I fell in love with them because they embodied everything I was looking for: natural and simple with high-quality ingredients, and imbued with history, authenticity and artistry. My goal was to take this beautiful history and tell it to a new audience, requiring design and a brand name.
Creating a Japanese-inspired skincare company at a time when Asian beauty wasn't trendy, skincare wasn't trendy, and clean beauty wasn't trendy was certainly a gamble, but I felt deeply that it was the right thing to do. In the same way, I knew that we wanted to self-finance. I don't come from money, I didn't have a high paying corporate job anymore so my husband and I went into very deep personal debt to bring Tatcha to life. I sold my engagement ring, our furniture, our house, and anything else of value we owned. It was important to me to bootstrap because we wanted to keep the company free of outside influences, allowing us to focus and innovate in the areas that are important to us: research and development and digitally driven world class customer service. It also allowed us to create Beautiful Faces, Beautiful Futures, our program for supporting girls' education around the world in partnership with Room to Read, a leading non-profit organisation that works towards world change through children's education. Every single Tatcha purchase helps fund education for an incredible girl around the world. We are coming up on funding two million days of school — something all of us at Tatcha are humbled by.
In the future, I hope that we can help continue the conversation happening in our industry about aging and beauty. So many people say to me, "I have bad skin". In the Western world, we can be critical of our skin and forget how amazing it is as an organ, as a protective barrier, and as an indicator of our health and wellbeing. In Japan and much of Asia, aging is considered a gift — it means you get to live longer! — and skincare is self-care. I would love some of that self-kindness and gratitude to make its way into our mindset.
In working with the geisha, I learned about the beautiful evolution they experience as they grow. A young maiko, or geisha-in-training, has an elaborately designed hairstyle and kimono, with many accessories and ornate makeup. As she gets older, more senior and more skilled, her accessories become simple and understated. It's believed that as you age, your beauty goes from the surface to deep within you, radiating through your mind and your heart. The older women are celebrated for a beauty that is far more than skin deep. I love the notion of looking at yourself in a mirror at 40, 60 or 80, knowing you are beautiful, and appreciating your skin. I hope our work at Tatcha can make our clients feel beautiful and cared for at every age.