Tips on How To Apply False Eyelashes
Your Go-To Guide For Applying False Eyelashes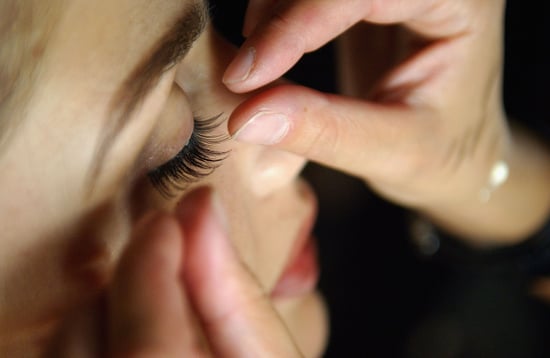 False eyelashes give a touch of elegance to any look, whether you go for full and thick or studded with rhinestones. Ana Cruzalegui, CEO of We Are Faux, has already given us a few tips on how to choose the right ones for you, and now she's sharing her step-by-step guide on making the application process all the more goof-proof. Find out more when you keep reading.
Start by measuring the strip of lash to your eye. "If it's too long, using small, straight-ended scissors, trim off any excess from the outer edge of the lash which is the longer end," Cruzalegui explains. "This will make wearing your lashes more comfortable and easier to apply."
Squeeze glue onto the lash strip, but instead of placing the strip on immediately, wait about 20 seconds. This will allow the glue to become slightly tacky, making it slide-resistant and more manageable to work with. Cruzalegui adds, "You also don't need very much glue for the lash to be applied properly. A clumpy false lash is not a good look!"
Next, use tweezers or your fingers to place the false lash strip onto your lash line. "Keep your head slightly tilted back while looking in the mirror. This will make it easier to see where you are applying the lash," advises Cruzalegui. Now, lay the lash down in this order: outer corner first, centre next, and then the inner corner.
Lightly hold the outer and inner corner of the lash with your fingertips until the glue dries and sets.
To remove, gently lift the lash away (you can also use a remover depending on the type of adhesive) and peel the glue off, placing the lash back in its container to store. And to keep your lashes long-wearing, "try not to mascara your false lashes," says Cruzalegui. Instead, add a few coats to your own prior putting on your falsies.