Valentine's Day Nail Art How To
Learn a Doily-Inspired Nail Art Design For Valentine's Day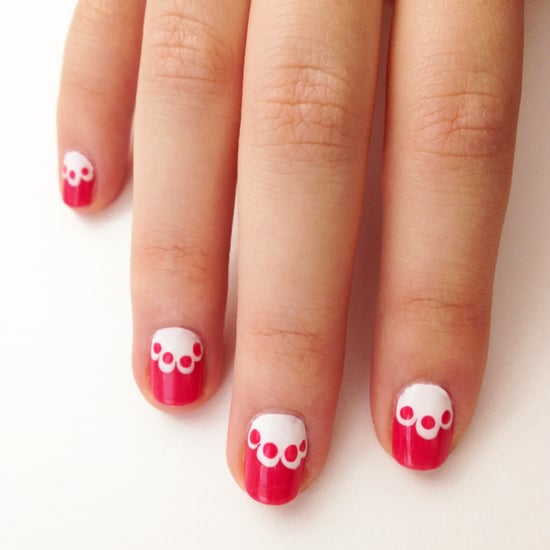 Valentine's Day nail art does not always have to include hearts painted all over your nails. This decorative take on a moon manicure dresses up your nails with another Valentine's Day motif: the doily. This lacy design seems more complicated than it really is, but all you need is one romantic nail polish shade, a bottle of white lacquer, and a bobby pin.
First, paint your nails the base colour. I chose Chanel Le Vernis in Fracas ($39) for a vibrant pink that kept the look from getting too dainty. After you've applied two coats, use the white polish to create a moon shape at the base of your nail. I used COVERGIRL Stay Brilliant Nail Gloss in Snow Storm. You don't have to worry about making the perfect shape because the next step is to add the scalloped edges of the doily.
Using the bobby pin, dab the ball tip into the white polish, and then create the white doily shape. Remove the white polish from the bobby pin with remover, dab the tip into the pink polish, and add the pink dots along the scalloped edges. The final look creates a pretty lace-like accent on your nails.