Watch Kim Kardashian's Fairy Tale Wedding Tonight and Scope Her Wedding Hair, Veil and Headpiece
Check Out Kim Kardashian's Wedding Headwrap Tonight!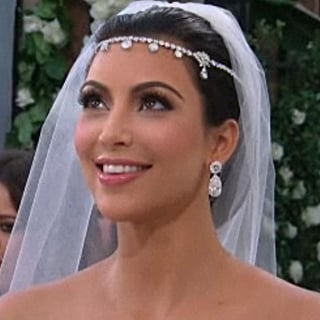 Although we already know Kim Kardashian had a fairy tale wedding, there's no denying we're looking forward to tuning into the E! Entertainment channel tonight and tomorrow night to watch four hours of her wedding preparation and festivities. The one thing we are most excited about, though, is checking out her beauty look up close, including her traditional, princess-like tiara. Kim opted for a dripping-with-diamonds wraparound headpiece, with a long veil accentuating her voluminous chignon. While she stayed true to her signature makeup palette of smoky eyes, glossy lips and flushed cheeks, this circlet-style hair accessory added a distinctive style. Because it's a bit different from the usual crystal combs and clips, don't be surprised if you see the diamond-drop style coveted by many brides-to-be.
Kim's Fairytale Wedding: A Kardashian Event airs tonight at 8.30pm on the E! Entertainment channel.