What is the Difference Between Bobby Pins and Hair Pins?
Bobby Pins vs. Hairpins: What's the Difference, Anyway?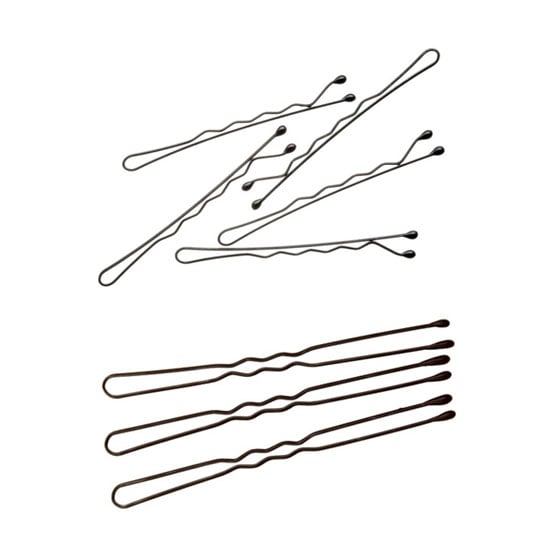 Not all pins are created equal, especially when it comes to your up 'dos. And while bobby pins are one of the more common hair helpers in the market, they aren't the only ones out there. Old-school hairpins are a definite must have for any woman who is serious about her hairstyles, whether it be a simple top knot or an elaborate up 'do. The secret is that both types of pins are necessary for your achieving your desired style. But how do you know the difference? It's actually quite simple. Just keep reading for more.
Bobby Pins:
These are the pins you tend to reach for when you do an up 'do. They're flat on one side and ridged on the other. But are you inserting them the right way? "Bobby pins should be used at the base of a hairstyle for security," celebrity hairstylist Mark Townsend says. So use only a couple of bobby pins and make sure you set them smooth side down for improved hold (as well as a more polished look).
Hairpins:
These are the skinny, U-shaped pins that have a little squiggle halfway down each side, and they're wonderful for setting styles like buns and chignons. "I feel like women are afraid of or don't know how to use hairpins," Townsend says. Once you know how to use them, though, you'll want to make them a staple on your vanity.
To use, begin by holding the pin between your fingers at the rounded end.
Place the pin vertically into the hair and insert the ends down into the hair to grab it.
Next, move the top of the pin horizontally 90 degrees so that the pin is still in your hair, going into it sideways.
Push the pin in.
Hairpins offer more range of motion and easier styling. Plus, they make your hair look more natural than bobby pins since they aren't so tight. With the right technique, you'll have the perfect holiday hair in minutes flat. Just be wise when picking your pin.